Celebrating Blue September
22 Sep 2017, Community & Sponsorship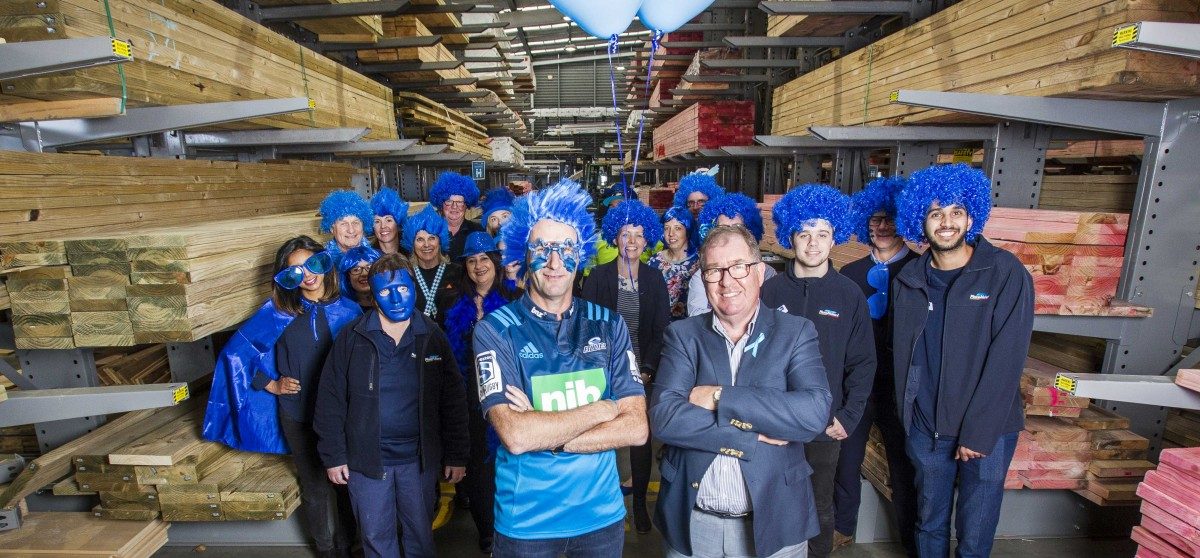 Having raised more than $480,000 over the past three years for the Prostate Cancer Foundation, PlaceMakers is once again getting behind Blue September to help raise awareness of the disease
This year's campaign theme is 'Blue Do' – designed to encourage Kiwis to get together with colleagues, family and friends to hold a fundraising event. All 58 PlaceMakers stores nationwide will be holding their own 'Blue Do' activities, along with a variety of other initiatives to help make this Blue September the biggest yet!
Bruce McEwen, PlaceMakers General Manager, said the company was enthusiastic to get stuck into raising as much money as possible for the cause.
"It's incredible to think that one man is diagnosed with prostate cancer every three hours in this country, as well as one or more dying each day," said Mr McEwen. "Our 'Blue Do' activities this year are designed to get our customers and communities involved in Blue September, whether that's coming along to an event at your local store or simply buying a couple of pencils, every contribution counts."
Bikers embrace Blue September
The annual Bikers in Blue ride started seven years ago, when a small group of riders went from Auckland to Raglan to raise awareness of the dangers of prostate cancer.
Since then, the event has gone from strength-to-strength with a second ride in the South Island*. The foundation's Events and Promotions Manager Carol Roche says it is now one of the Prostate Cancer Foundation's biggest Blue September fundraisers.
"It's a key event for us and, in terms of numbers, is certainly one of the biggest. Last year we had more than 300 riders and raised more than $10,000 between the Auckland and Invercargill rides. This year we had our first ever Wellington ride," says Carol.
This year's Auckland route saw riders meet at PlaceMakers Pakuranga, before making their way north to the Silverdale store – where they enjoyed an auction and BBQ, with all proceeds raised going to the foundation.
"This is the second year that we've hosted and it's great fun," says PlaceMakers Silverdale Branch Operator John Gair.
"People really go out of their way with costumes and we got an awesome mix of machines; we had everything from Harley Davidsons to trikes and I think I even saw a sidecar!"
Despite the wild weather, more than 200 bikes and 300 riders came out to contribute to the cause.
Capital event!
The inaugural Wellington ride saw more than 120 bikes parked up at the PlaceMakers Porirua store in the morning, where they fuelled up with some breakfast before cruising south in balmy conditions to Evans Bay for the finish.
PlaceMakers Porirua Trade Supervisor Boss Passi says it was an awesome event and they're definitely keen to run it again.
"The carpark was completely full, it was hectic! We cooked up a massive BBQ and sold the food for gold coin donations, which all went to the foundation. I'm not sure how much we raised yet, but I was really pleased with the turnout," says Boss. "There were all sorts of bikes there and quite a few people from local motorcycle clubs made an eff ort to come out, which was great to see.
"In New Zealand, I think almost everybody will know or know of somebody affected by prostate cancer, which is why I think a lot people get out to support the cause," says Boss.
Carol says that the support of PlaceMakers throughout the years has been instrumental to the successful growth of Bikers in Blue.
"Having the support of the stores is enormous. The branch managers are fantastic and really get behind it. Logistically, it's also so easy for us, because we just tell them what store to start at and what store to finish at."
Both rides were supported by a police escort to ensure they arrived at their respective destinations safely.
*The Invercargill ride has been placed on hold this year due to the bi-annual Scooter Challenge.