More safety myths busted
22 Sep 2017, Prove Your Know How, Safety

This next article in our mythbusting series looks to clear up further misconceptions
Some in the industry believe that the Health and Safety at Work Act prevents the formation of health and safety committees. This is a myth!
If more than five workers or a health and safety rep asks for a health and safety committee, then the business must consider the request.
If you are in a high-risk industry*, such as construction, or have more than 20 workers, you can only decline the request for a health and safety committee if you believe you are already doing enough to meet your worker participation requirements under the Health and Safety at Work Act.
Remember, all requests must be genuinely considered and valid reasons given for any refusal. Any business can form a health and safety committee voluntarily.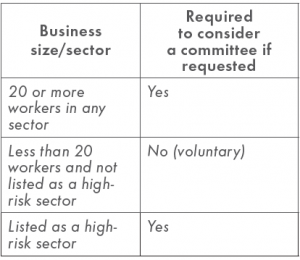 It is important to remember that under the Act, you need to engage with workers and create opportunities for them to take part in improving health and safety. Many businesses choose to have health and safety committees, as they are a well-established way to support worker engagement and participation.
If a health and safety committee is established at your workplace, the business must:
Consult with the committee on health and safety.
Allow each member of the committee sufficient time to attend meetings or carry out functions as a member of the committee.
Provide the committee with necessary information to perform its functions, including information relating to hazards and the health and safety of workers at the workplace.
Adopt any committee recommendation, or provide a written statement advising why they did not adopt it.
*High-risk sectors or industries as per the Health and Safety at Work Act Regulations 2016 include:
Aquaculture
Forestry and logging
Fishing, hunting, and trapping
Coal mining
Food product manufacturing
Water supply, sewerage, and drainage services
Waste collection, treatment, and disposal services
Building construction
Heavy and civil engineering construction
Construction services
Site Safe offers a comprehensive two-day training course to get health and safety reps up to speed. To enrol, visit www.sitesafe.org.nz.