October apprentice of the month – Sam McGill
16 Nov 2017, Community & Sponsorship, PAC
There's not much that's more daunting than being made redundant as a first-year carpentry apprentice, but Sam McGill refused to let it dampen his enthusiasm for his new profession.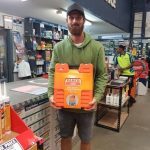 After being made redundant due to his company no longer continuing residential construction, Sam decided not to dwell on it and started looking for a new job immediately.
His efforts didn't go unnoticed – by the following Monday, he was starting a new job and his positive attitude was untarnished.
"It might seem like the end of the world if you're put out of work, but there's so much work out there and, in the long term, this can help grow your skill set."