A NOT-SO-TINY DILEMMA
16 Mar 2020, Industry Updates, News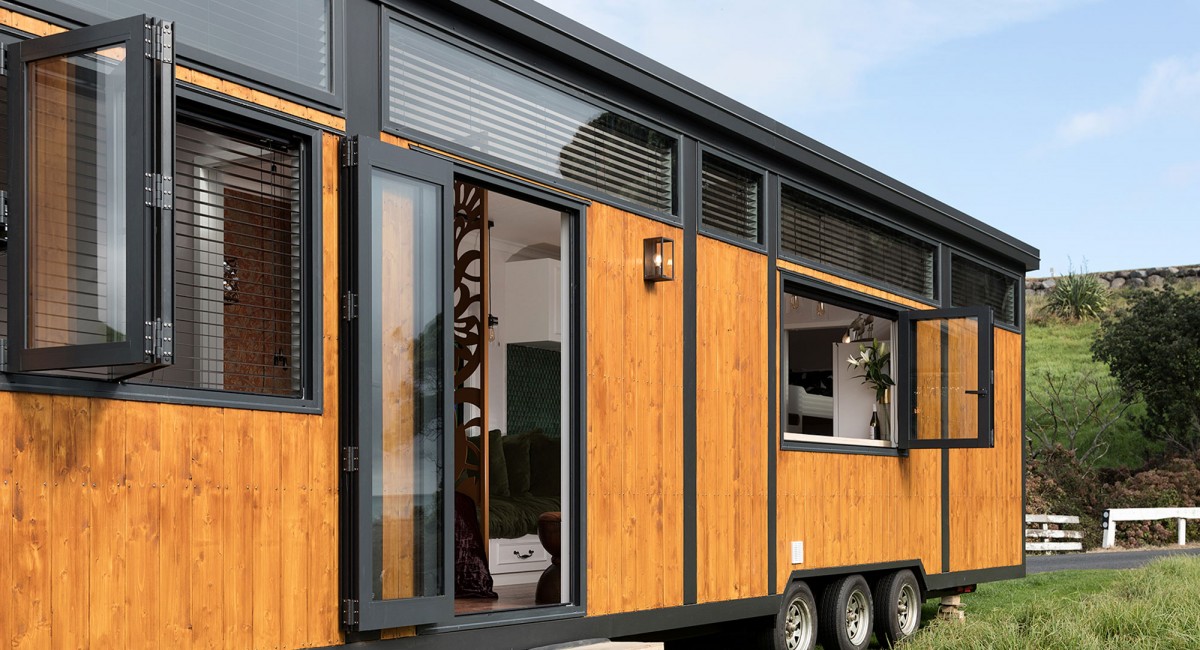 The fight over correct definitions and regulations to be applied to tiny homes continues, with recent determinations coming from the Ministry of Business, Innovation and Employment and New Zealand courts muddying the waters
In Under Construction's previous story covering this issue, confusion over what constitutes a 'building' was highlighted as an issue being disputed by homeowners and local councils.
Both tiny home builders and aspiring homeowners were asking for clearer rules, citing contradicting responses from different authorities.
Under Construction reported on the case of Jono Voss in Lower Hutt, who appealed to the Environment Court in October 2019 regarding Hutt City Council deeming his tiny home a building rather than a vehicle.
The Environment Court released its decision on 31 January, stating it upheld the Hutt City Council's view that Voss' unit should be defined as a house, and therefore should have sought appropriate consents before building
on his friends' property.
In its decision, the Environment Court stated that the case "has nothing whatsoever to do with the merits or otherwise of tiny houses".
"The Council's concern in this matter, which led to the issue of the abatement notice, was not the use of the tiny house as a dwelling, but rather that it did not comply with various permitted activity conditions with which all buildings in the zone are required to comply," reported the Environment Court.
Considering whether the unit in question was a vehicle or a building, the judge said he was not convinced the two unconnected axles and separate wheels constituted a vehicle, despite having been registered as a trailer.
"I am far from convinced to any reasonable standard of proof that it is possible to incorporate the tiny house into a warrantable or certifiable roadworthy vehicle using the axles and wheels lying on the property," the Judge said.
Same story, different court, different ending
North Canterbury man Alan Dall also featured in Under Construction's report. He was challenging the Hurunui District Council's view that his tiny home on wheels was a building, not a vehicle. After going to the Ministry of  Business, Innovation and Employment (MBIE) for a Determination, it was found his tiny home was "more akin to a building".
Dall has since appealed MBIE's decision to the Christchurch District Court, winning his case in February, and having his tiny home defined as a vehicle.
Judge Mark Callaghan concluded that MBIE was mistaken in its decision, deeming Dall's tiny home a vehicle because it was registered, warranted, and movable.
Multiple consents at play 
The building process requires compliance with two Acts, The Resource Management Act (RMA) and the Building Act.
A resource consent is special permission from the local council if you wish to carry out any activity which is inconsistent with the RMA and your local district or regional plan. Whether or not a resource consent is required will depend on the zoning of the property and the size and location of what you want to do. Most District plans place restrictions on how high you can build, how close to the boundary and the percentage of land covered by  buildings.
The council can issue an abatement notice if it believes the building work requires a resource consent or does not comply with a resource consent it has issued.
An appeal can be made against an abatement notice to the Environment Court, as Jono Voss did, if the owner believes an abatement notice is not warranted.
The court will refer to the RMA and district plan to decide whether there has been a breach.
A building consent considers whether the proposed building work will comply with the Building Act and the Building Code, and requires the names of LBPs who will carry out restricted building work prior to the work being  done. If the Council believes the work has not been done according to the building consent or the building code has been compromised, they will issue a 'notice to fix' requiring the builder to make changes. Similarly, if a  consent was not sought, and the council decides one should have been, it can also issue a notice to fix.
The owner can challenge a notice to fix by applying to MBIE for a Determination, with further appeal to the District Court if the party to the Determination is not content with MBIE's decision.
Councils step up 
Amid the confusion, some councils are taking action to make the process of building and/or living in a tiny home easier.
New Plymouth District Council has been cooperating with NZ Tiny Homes, so that every build coming out of the factory is complete with a Code Compliance Certificate (CCC).
This means buyers have a record the tiny home complies with the Building Act before they relocate to their respective area. However, a resource consent still needs to be obtained.
The Marlborough District Council has created a pamphlet detailing when a building consent is required, in response to a rising number of small dwellings in the region which do not have building consents.
In 2019, six tiny homes were ordered to be brought up to regulation, after complaints notified council of the dwellings' existence.
The pamphlet explains that accommodation defined as a vehicle could still require a building consent in certain circumstances including if the owner wants a permanent service connection for water, drainage or power, and will require a resource consent for vegetative clearance, water or construction near a riverbed.
Information from the Resource Management Act, Building Act, Building Code, and MBIE determinations was compiled into the pamphlet. The council says that anyone looking to build a tiny home should speak to their local council first to gain accurate advice.
Who can build tiny homes? 
In a future issue, Under Construction will take a closer look at who can build tiny homes, and what aspects of tiny home builds may require licensed builders to carry out.
/* featured_learn_list end */?>