Certified Builders name NZ's top carpentry apprentice
06 Jul 2021, News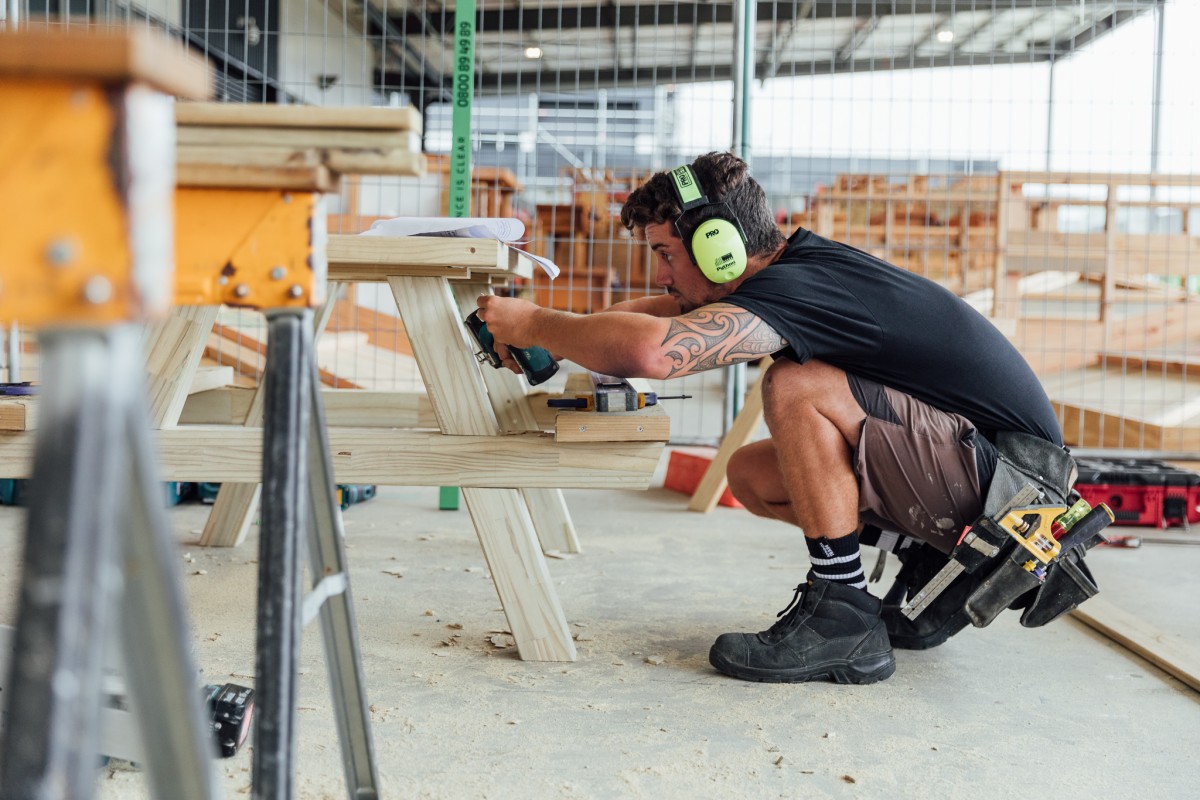 The national finals of the NZ Certified Builders Apprentice Challenge were held in Wellington at the start of June, determining the top apprentice from a talented pool of entrants
Undertaking a range of white-collar tests to prove their professionalism, the apprentices spent two tense days sweating over business plans instead of building plans, including making formal presentations to the judges.
South Canterbury's Marc Palmer, aged 21, won the national final against 18 other entrants competing for a $50,000 prize pool and the coveted Ken Read Memorial Trophy*. Lucile Richardson (21) of Waikato placed second, and Ryan Whitburn (27) of Otago placed third at the June 11-12 event, held at TSB Arena in Wellington.
PlaceMakers sponsored the third-place prize package valued at $5,000, which included a HiKOKI full spec premium 36v ten-piece Super Pack and a HiKOKI 90mm gasless framer.
Exceptional entrants
NZCB Apprentice Manager Nick Matthews believes the diverse line-up at the Wellington finals on June 12 "represents the changing face of New Zealand's trades, with a record number of women competing and a number of older apprentices who have started their carpentry career later in life".
He said it was particularly exciting to see two women make it to the national finals for the first time in the ten-year history of the challenge.
"In my opinion, it's a snapshot of what's going in the regions," said Matthews. "More women are entering the trades and seeing it as a vocation, and that can only be a good thing."
Matthews said the show of carpentry talent at the regionals and finals was a testament to the high calibre of apprentices currently in industry training, and described Marc Palmer's win as "a celebration of emerging talent at a time when the sector faces a skills shortage among a number of other pressures".
Business ready
The event was part of a two-day conference which NZCB said presented an opportunity for attendees to look at the sector's most pressing issues under the lens of sustainable environment, business and trade.
Unlike the regionals, where carpentry was the main focus, the national finals were about testing participants' readiness to run a building business.
"The finals involved all academic tests," said Matthews. "Prior to attending, they must send in a CV, an introduction letter and a work portfolio to the judging panel.
"It's assessed for spelling, punctuation, layout and content. There's a formal interview and participants deliver a presentation, and a formal carpentry exam. We're looking to see who's got the aptitude to being a Licensed Building Practitioner. Or who's the next NZCB regional president. It's about testing apprentices' aptitude in becoming a business owner."
Practical skills in the bag
The national finals – held concurrently with the NZCB expo and gala dinner – followed regional challenges which were held on April 10 in 20 different parts of New Zealand. All competitors were either employed by NZCB member builders or enrolled with ITAB (Industry Training Association Building).
The regional challenges saw apprentices given just eight hours to build a picnic table that followed specific design plans and met minimum safety standards, though they were given a helpful briefing one week prior to the event.
The frontrunners generally finished in 5.5 hours and 98% of entrants completed the task, Matthews said.
NZCB branches auctioned picnic tables to raise funds for the Cancer Society and at the Wellington finals, a $7,000 donation was presented to the Cancer Society by Nick Matthews.
PlaceMakers plays its part
PlaceMakers has been supporting the Certified Builders national conference for a number of years and is an NZCB regional merchant partner in Auckland.
"At the last challenge in 2019, PlaceMakers sponsored the personality award and provided twenty PAC prize packs for regional finalists."
PlaceMakers has been supporting apprentices since 2013 through a scholarship scheme in association with the BCITO, before launching the PlaceMakers Apprentice Crew (PAC) in 2017, which includes monthly prizes for apprentices to recognise their learning strides.
*Ken Read was a Tauranga-based Business Development Manager for NZCB, known for promoting NZCB in the regions after NZCB was founded in 1998. Ken unfortunately passed away at work from a heart attack, and this award was created in his honour.
/* featured_learn_list end */?> /* featured_news_list end */?>