CLEARANCE UNDER PARTICLEBOARD FLOOR
20 Nov 2019, Learn, Prove Your Know How, Technical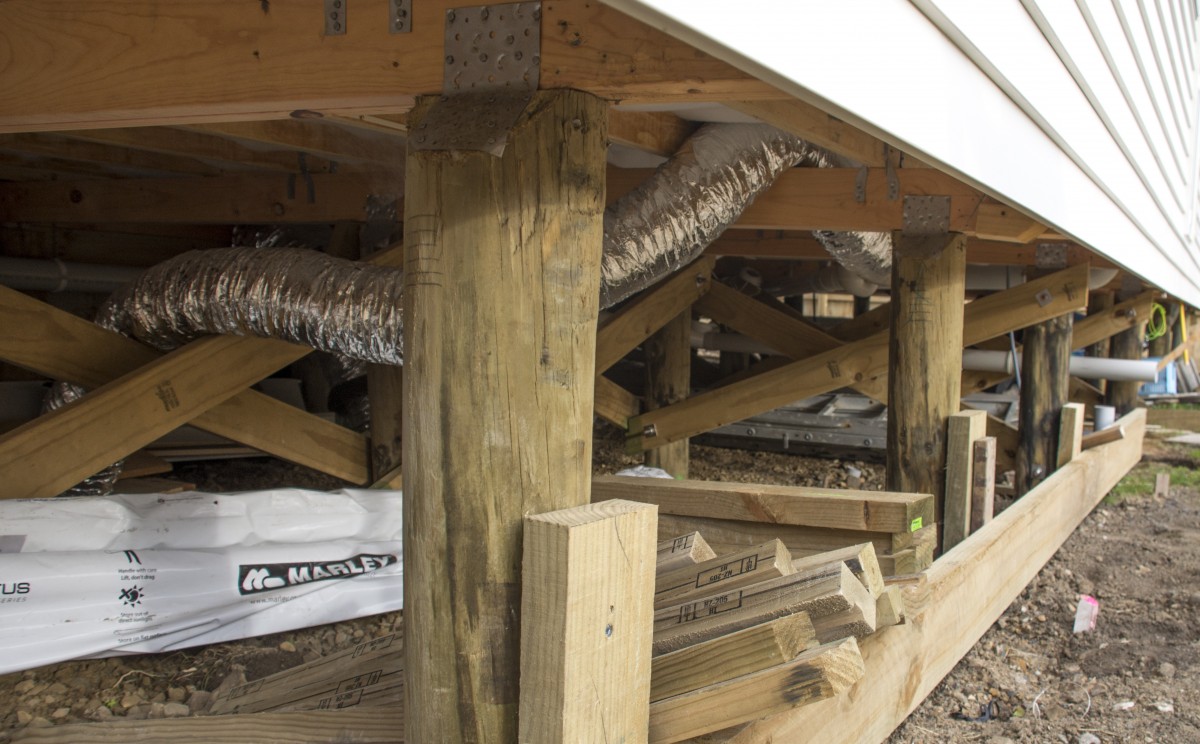 Calls to BRANZ helplines have revealed confusion created by differing advice in NZS 3604:2011 on the ground clearance needed for particleboard flooring. So, what is the ground clearance  needed?
When the flooring of a suspended timber-framed floor is particleboard, NZS 3604:2011 Timber-framed buildings specifies a minimum clearance of 550mm between the underside of the  particleboard and the ground (paragraph 2.3.7).
However, paragraph 6.4.1.1 in NZS 3604:2011 allows a minimum pile height above finished ground level  of 150mm. So, in what situations may minimum pile heights apply?
Particleboard needs larger clearance
From Tables 6.4 and 7.1 in NZS 3604:2011, the minimum permitted sizes of bearers and joists are 90 × 70 mm and 90 × 45mm respectively. If these sizes are used with piles 150mm high, the underside of the flooring will be 330mm above ground level (Figure 1).
Timber strip and H3 CC-treated plywood flooring
Timber strip and H3 CCA-treated plywood flooring do not have restrictions on the permitted installation height above ground, so these flooring materials may be installed over subfloor framing with ground clearance of less than 550mm.
Particleboard flooring
If the same sized bearers and joists are used with particleboard flooring, the pile heights above finished ground level must be at least 370mm. Generally, larger joists are likely to be used, but regardless of the sizes of the subfloor framing, the clearance between the ground and the underside of the particleboard flooring must be at least 550mm (Figure 2).
Note: These minimum subfloor clearances may not be achievable over the entire footprint of the building. NZS 3604:2011 requires crawl spaces to permit visual inspection of all subfloor framing. Clause 6.14.4 requires an access height of not less than 450mm to the underside of the floor joists, but does not require all timbers to be 450mm or more above the ground.
Add more protection, use polythene sheet
Particleboard flooring must be protected from exterior exposure. Where damp soil conditions exist, it is recommended that the ground be covered with polythene sheet. This
includes where the minimum subfloor ventilation requirements of NZS 3604:2011 paragraph 6.14.1 are being met – a minimum net open area of 3,500mm² per m2 floor area.
A polythene ground cover should also be used in any situation where:
The subfloor ground is permanently or seasonally damp.
The airflow is obstructed by party walls, internal foundations or attached terraces.
The ground is more than 7.5m from a ventilation opening.
This article was first published in BRANZ's Build 174 magazine. www.buildmagazine.co.nz. Words and figures supplied by BRANZ.
/* featured_learn_list end */?> /* featured_news_list end */?>