Te reo resources launched for future Māori builders
02 Sep 2021, News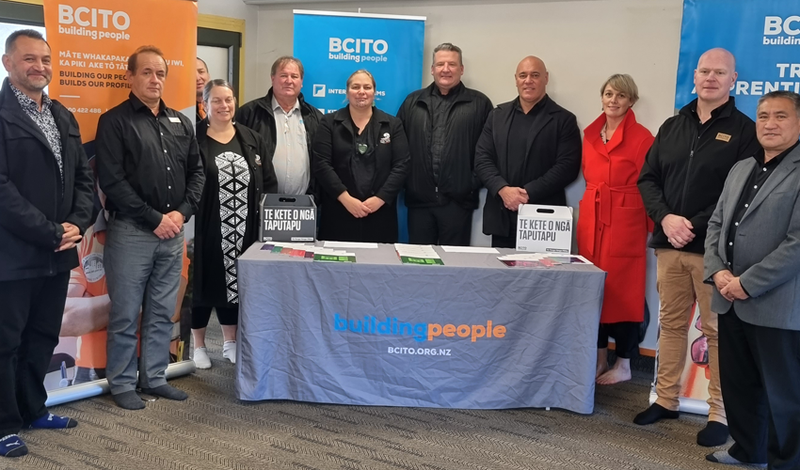 The first Building, Construction and Allied Trades Skills (BCATS) Level 3 resources written in te reo Māori have been launched, with the intention of integrating Māori into the building industry and achieving the same results as other populations
BCITO launched the reo Māori resources in June with the intention of delivering them to secondary schools and graduates, which BCITO says is "to encourage more Māori to consider careers in the building and construction industry".
Students can achieve the BCATS unit standards as a school subject through TEC's Gateway programme, Trades Academies and programmes designed for second-chance learners. Practical assessments are conducted by BCITO.
The resources were launched at Ngā Taiātea Wharekura school in Hamilton on June 23 where representatives from the school and BCITO mingled with the local iwi Waikato-Tainui.
BCITO Māori and Pasifika advisor Garyth Arago-Kemp told Te Ao Māori News that BCITO has worked with the school for 12 years, especially around career days and launching the new units there was because "We wanted to again strengthen our relationships."
Ngā Taiātea Wharekura principal Michelle Treadaway-Ohia said the initiative "makes the career pathway of building more accessible to rangatahi" and that investment in the resources show students that the Māori language has value.
BCITO Chief Executive Toby Beaglehole said that, until now, BCATS units have only been available in English. He calls this a "a landmark moment for BCITO and signals our intent to work closely with Māori to improve educational outcomes".
Māori make up 19% of all BCITO enrolments and have a 69% credit completion rate. In comparison, non-Māori apprentices have an 82% completion rate, BCITO says.
BCITO – which has 20,000 apprentices in training – said that, when announcing the new reo Māori units, the hope is that "these units will help break down barriers at the secondary school level, leading to tangible improvements at the tertiary level".
At the event, Waikato-Tainui Career Pathways Manager Kaaro Iti-moeke said the units are "a natural progression in te reo Māori, which means that the next step toward an apprenticeship in construction is a natural one".
The first te reo qualifications (Level 3) are available through myBCITO and at bConstructive.co.nz, and plans for Level Two and One reo Māori BCATS units are being formulated.
/* featured_learn_list end */?> /* featured_news_list end */?>