CROMWELL COMMUNITY LENDS A HAND
17 Jul 2019, Community & Sponsorship, News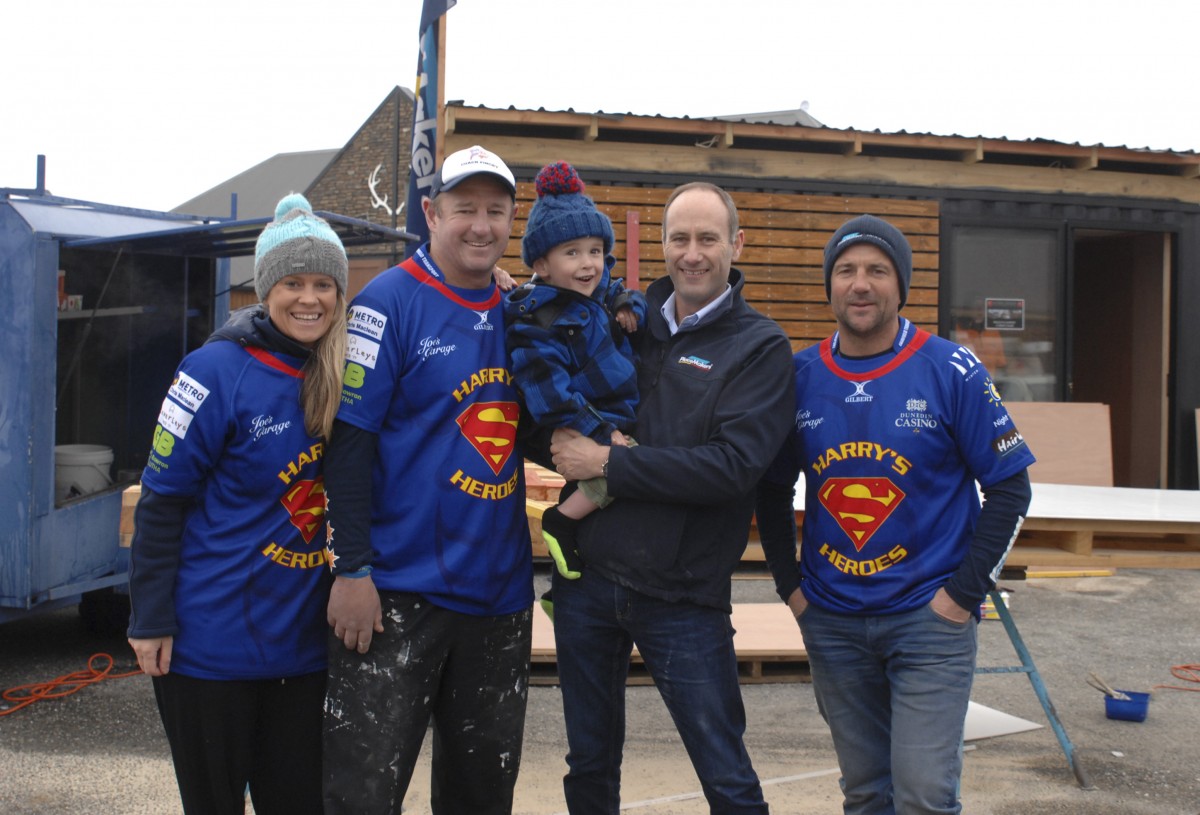 Builder's wish comes true for little Harry thanks to PlaceMakers Foundation Working Bee Grant!
Emotions ran high in Cromwell as three-year old Harry Finch and his twin brother Ollie explored the two container houses built by Cromwell builder Derek Craig, who sold them to raise funds for Harry's ongoing physio costs following recent life-changing leg surgery.
Earlier this year, Derek was awarded the inaugural Working Bee grant from the PlaceMakers Foundation, which helped him finish his ambitious project and donate $100,000 towards Harry's ongoing physical therapy sessions for the next five to seven years. Born with cerebral palsy, the Dunedin youngster has Spastic Diplegia Cerebral Palsy in his leg muscles, and recent surgery in the USA now offers hope that walking and playing will one day be a possibility for the youngster.
The two container houses were on display for the Cromwell community to view, with hundreds of locals taking a peek as Derek and more than 30 local tradies made the finishing touches. One 40ft container house features a kitchen, bedroom and bathroom, while the other 20ft container can be used as a wing, with two bedrooms.
Derek said seeing his idea come to life was a highlight for him, but the multitude of local tradespeople and businesses who had rallied to lend a hand, time and resources was equally amazing.
"This has truly been a team effort – Cromwell residents provided so much support and involvement, and the $25,000 Working Bee grant made it all come together, helping my dream for Harry come true."
Surrounded by family, friends and hundreds of well-wishers, Hayden Finch said it was incredible to think that one bloke would take on such a huge idea for his family.
"We are so moved by Derek and everyone who has played a part in the project," said Hayden. "Harry's surgery went very well and with a lot of hard work in the next few years, he has this amazing opportunity to have a wonderful life alongside Ollie."
Bruce McEwen, NZ Distribution CE and PlaceMakers Foundation Trustee, was in Cromwell to lend a helping hand over the weekend and witness the impact the PlaceMakers Working Bee grant can have on community projects.
"What an inspiring man with a genuinely impactful vision to make a difference in someone's life – we are very proud to have awarded our first ever Working Bee grant to Derek," said Bruce. "Our local team has also been deeply involved in the project and are very proud to support Derek and the Finch family."
The PlaceMakers Foundation combines charitable giving, the skills of PlaceMakers' own staff and customers, and all available resources to help make a lasting difference in communities around the country. To find out more, visit foundation.placemakers.co.nz