DOING THE SMALL THINGS RIGHT  
23 Jun 2020, Industry Updates, News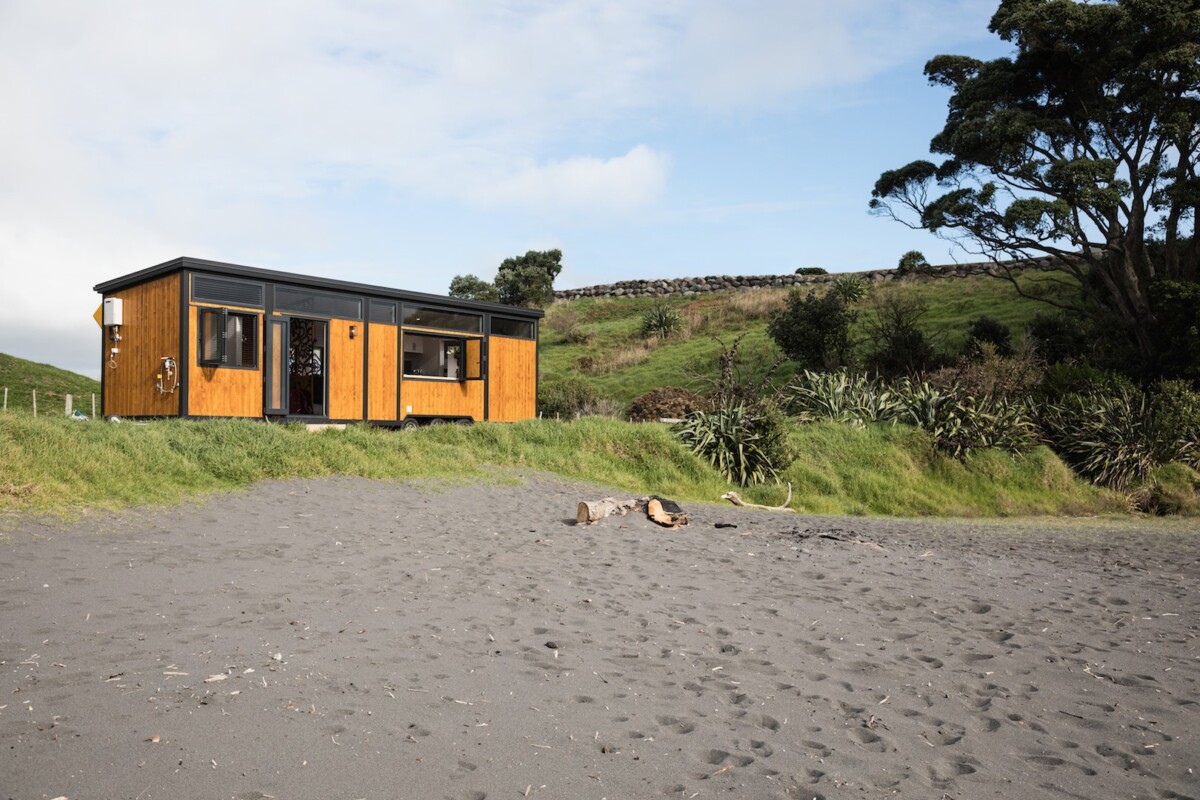 While disputes continue between councils and tiny home builders over what defines a home, New Plymouth company NZ Tiny Homes is avoiding the conflict through council cooperation
As reported in previous articles by Under Construction, several tiny home owners have created their own small slice of paradise without a building or resource consent. However, others have been ordered by their local council and district court to stop work on their build halfway, or retrospectively obtain consent, because they have not been built to code or obtained the building consent and resource consent required for their area.
The reason for differing approaches is that the building process requires compliance with two Acts, and each has its own dispute and resolution process. See 'Multiple consents at play' at the end for more detail.
COUNCIL COOPERATION
NZ Tiny Homes, a New Plymouth based company run by Jamie and Kylie Cameron, has mitigated confusion and conflict for its customers by working directly with the New Plymouth District Council (NPDC) to ensure each unit has a building consent and Code of Compliance Certificate (CCC) when complete.
This is possible thanks to an NPDC process, which allows companies to submit standard plans for review. Once approved, it allows building consent requests using an approved standard plan to be processed more quickly and easily. The council also issues a CCC upon completion.
This is particularly simple for NZ Tiny Homes, as when it comes time for CCC inspection, the council will inspect all completed units in the same visit to the NZ Tiny Homes factory, which can facilitate 25 simultaneous builds.
According to NPDC, NZ Tiny Homes is one of a handful of companies in the region using this council process.
The company has also avoided concerns about quality by having qualified trade professionals, including Licensed Building Practitioners (LBPs) working on the builds in the factory.
This doesn't mean there is no responsibility for the customer – they still need to obtain a resource consent from the local council in the city or region where they intend to place and live in the unit, and a building consent if they wish to connect it to services.
Jamie said approaching NPDC at the start was motivated by having a longterm outlook.
"We knew we needed to futureproof the company – just because no one was clamping down at that point didn't mean it wouldn't happen, and now it has. By working with the council early on, we have managed to avoid creating issues for our customers down the road.
"It involved a lot of work fine-tuning the engineering and design, but it's streamlined our process and allowed us to provide customers with reassurance their unit is built to code."
Jamie says each of the NZ Tiny Homes designs approved by council has the scope to be tweaked slightly to cater to a customer's vision, while still complying with the consent and Building Code.
Nationwide interest in its units has led to a factory now under development in Christchurch, and sales offices in other parts of the country. An Auckland factory is another long-term aim.
"We've delivered units south to the likes of Canterbury, Nelson, Queenstown, so we believe having a factory down there will receive similar interest," said Jamie.
MORE 'HOME' THAN 'VEHICLE'
The company is also seeing an increase in their builds having piles installed to become permanent dwellings. For NZ Tiny Homes, which set out to build transportable dwellings and not vehicles, it's encouraging to see more people deciding to permanently settle down on land.
In contrast, for tiny home builders and occupants whose dwelling is allowed under a vehicle classification, putting down piles to settle down would be a death sentence.
"The Waikato District Council was pretty straight forward in its definition of a building, saying that 'if you sleep in it for more than 15 days, it's a building'", said Jamie.
"I understand people want to cut costs, but a building is a building, and for us it doesn't make sense to classify our units as vehicles; if you were to travel at high speeds with our homes, the effects would be that of a magnitude 8 earthquake."
As Under Construction has previously reported, councils and courts have approached the matter differently across the regions, and a lack of universal definition and guidance continues to muddy the waters for aspiring tiny home builders and owners.
However, for NZ Tiny Homes and its customers, the CCC provides assurance for the building part of the equation.
COVID-19 CONCERNS STIMULATE DEMAND
In the face of challenging times and an unpredictable future, customer interest in NZ Tiny Homes has increased, as the company is currently fielding requests for builds from all over the country.
"Our national sales manager has been flat out with enquiries and serious interest in our units," said Jamie. "Covid-19 has changed the landscape for many people, who are now considering other options given the economic uncertainty. On top of that, being near family is more important than ever, and tiny homes are able to be transported to existing family land.
"In the face of possible job losses, people are also reassessing their need to buy expensive homes, while others are looking more at tiny homes as an investment option or as a foot-in-the door of the housing market.
UPCOMING BUILDING ACT CHANGES
A manufacturer certification scheme, which will provide a new streamlined consenting pathway for quality manufacturers using modern methods of construction, such as off-site manufacturing, introduced in the proposed 2019 building reforms, has now been agreed to in principle by Government.
Certified and registered manufacturers will be able to produce modular building components. These components will be 'deemed to comply' with the Building Code.
This is intended to reduce the duplication of effort for both BCAs and for manufacturers while also recognising the robust quality assurance processes many manufacturers already have in place.
MULTIPLE CONSENTS AT PLAY
The building process requires compliance with two Acts, The Resource Management Act (RMA) and the Building Act.
A resource consent is special permission from the local council if one wishes to carry out any activity which is inconsistent with the RMA and your local district or regional plan. Whether or not a resource consent is required will depend on the zoning of the property and the size and location of what one wants to do. Most district plans place restrictions on how high one can build, how close to the boundary and the percentage of land covered by buildings.
A building consent considers whether the proposed building work will comply with the Building Act and the Building Code, and requires the names of LBPs who will carry out restricted building work prior to the work being done. If the Council believes the work has not been done according to the building consent or the building code has been compromised, they will issue a 'notice to fix' requiring the builder to make changes.
/* featured_learn_list end */?> /* featured_news_list end */?>