EXCLUSION ZONES EMPHASISE PLANT SAFETY
19 Nov 2018, Community & Sponsorship, News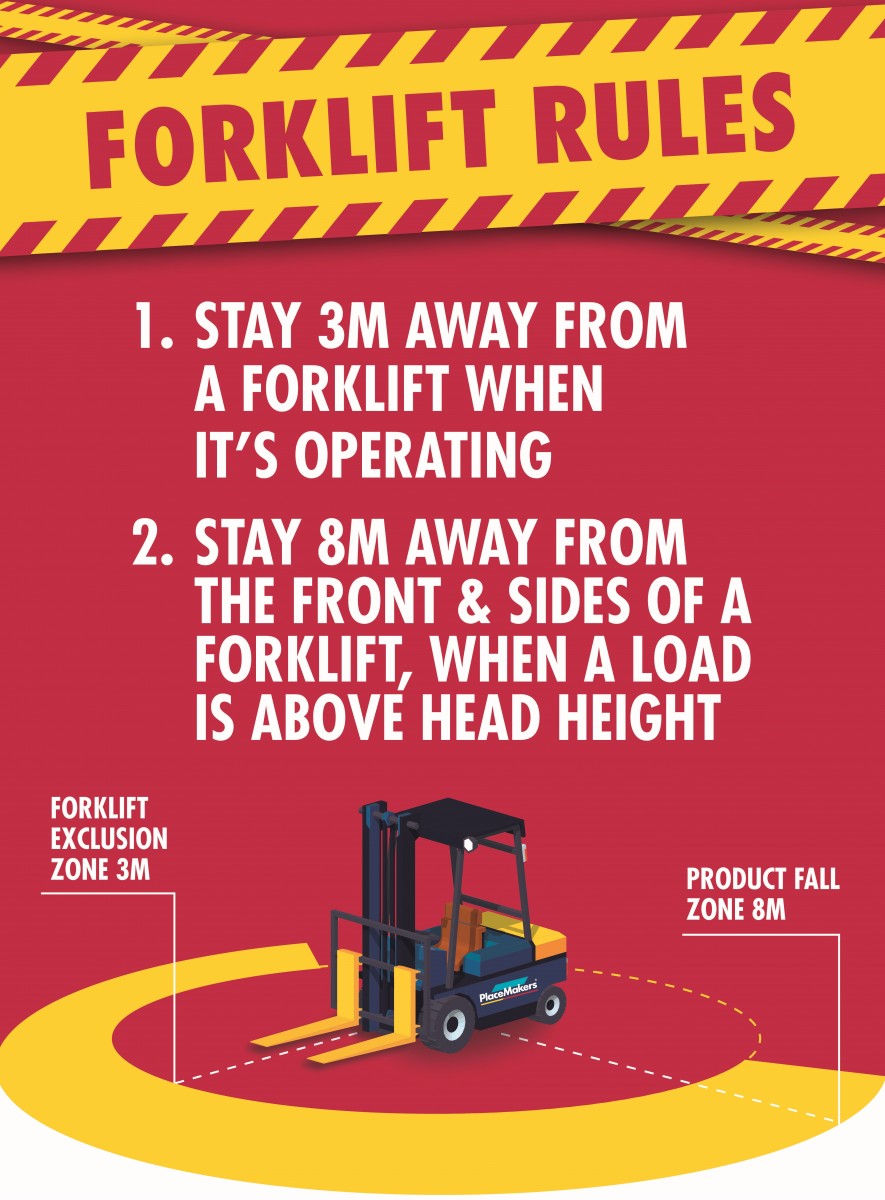 Safety has always been paramount for PlaceMakers, and the danger around operating forklifts makes exclusions zones a high priority to combat unnecessary incidents
Forklifts have long posed a safety issue in the industry, and PlaceMakers stores and work sites are no exception. With injuries again on the rise across the construction industry after several years of decline, PlaceMakers is leading by example and working hard to ensure its customer are aware of the risks.
"Most forklift incidents are preventable if those walking around a forklift stick to a safe distance," says National Manager of Environment, Health and Safety Anthony Mitchell. "For this reason, every PlaceMakers branch in the country has defined exclusion zones in store and on the construction site.
Anthony says the exclusion zones – three metres when operating, and eight metres when a load is above head height – were introduced to keep passers-by safe from potential harm, and to allow the drivers enough time to react if they see someone walk out in front of the hoist.
"We started focusing on it as a business about four years ago. As an industry, mobile plant has too many near misses, so we think it is important to do something about it and bring some safety measures to light.
"It's about making sure that as our business gets busier, we can ensure that our customers are staying safe," says Anthony.
Most plant equipment now has a warning sign, which reminds staff and customers of the exclusion zone distances. Newer forklifts have lights that illuminate this exclusion zone distance.
"All new forklifts we get in to replace older plant have the exclusion zone lights on them. As it stands, about 10% of our forklifts have them.
"Other signage with the exclusion zone distances can be found around the store, at the drive-thru, and out in the yard," says Anthony.
"It's important we really nail this home — it's our number one focus at the moment. Respecting exclusion zones is a 'golden rule' at PlaceMakers and if we can get everyone on board with that mentality, we can start working toward eliminating near misses and incidents that can be avoided completely."
Anthony said the exclusion zones also apply to the unloading of vehicles, which can be just as dangerous, and demand as much attention as other plant operating on site.