Exempt from consent?
05 Jun 2014, Building and housing, LBP & Regulation, Prove Your Know How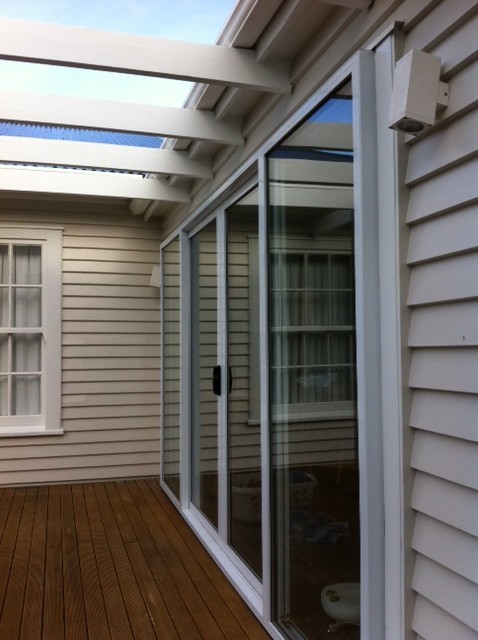 Updated and detailed Schedule 1 guidance for exempt building work has been released, following the November 2013 Building Act amendment – here's the lowdown.
As discussed in last month's issue of Under Construction, a number of changes were made when Schedule 1 of the Building Act 2004 (the Act) was amended in November 2013.
In March this year, The Ministry of Business, Innovation and Employment (MBIE) published new guidance to help keep you up to date with the changes.
The guidance concentrates on the 43 exemptions of Schedule 1 and is full of practical examples and photos. It's important that builders are aware of building work that is exempt from a building consent, as your clients will often rely on you to advise them.
Carrying out building work that is not exempt, without a building consent, is an offence and can incur a fine of up to $200,000 and a further fine of up to $10,000 per day if work continues.
To find out more, read the guidance Building work that does not require a building consent – Building Act 2004 at www.dbh.govt.nz/bc-no-consent
If you're still unsure…
Remember – all building work must comply with the Building Code, regardless of whether it needs a building consent. However, just because it doesn't require a building consent doesn't mean you have to go it alone.
1. Does the proposed building work clearly fall within the scope of one or more of the exemptions (excluding exemption 2)?
If you're unsure whether the building work is exempt, ask for advice from someone with the appropriate building knowledge and expertise such as:
Building consent authorities (typically district and city councils).
Registered architects.
Chartered professional engineers.
Registered building surveyors.
Building consultants.
Licensed building practitioners.
Registered certifying plumbers and/or drainlayers.
2. If, after seeking advice, you decide the building work is outside exemptions 1, 3 to 43, what should you do?
Talk to your council to see if it is prepared to exercise its discretion as to whether or not it requires a building consent (i.e. exemption 2). If the council does not require a consent, you may still need to apply in writing for an exemption from the council.
3. If the council will not approve an exemption 2, what should you do?
Apply for a building consent.
REMEMBER – building work may require other consents
All building work, whether or not exempt, must still comply with the Building Code and all other relevant legislation, such as the Resource Management Act (RMA) 1991.
Always check with your local council for its District Plan rules (eg maximum site coverage, yard/setback requirements, sunlight access planes or permitted activities) set under the Resource Management Act 1991, as there are some discrepancies between Schedule 1 and local council requirements. If you need resource consent for the proposed building work, it's important you get this before starting work.
Find out more about the relationship between resource and building consents, how they may affect your project, and what you need to do to have your consents approved at: www.dbh.govt.nz/rma-guide-index
Examples
In the new guidance, each exemption is described in detail with examples, photos and, in some cases, diagrams. It also highlights any concerns to be aware of and clarifies the type of work that is exempt and who can carry it out.
Below is an excerpt from the guidance regarding one of the exemptions. All exemptions are described in similar detail, so make sure to take a close look.
Windows and exterior doorways in existing dwellings and outbuildings
Building work in connection with a window (including a roof window), or an exterior doorway, in an existing dwelling that is not more than two storeys, or in an existing outbuilding that is not more than two storeys, except:
(a) in the case of replacement, if the window or doorway being replaced has failed to satisfy the provisions of the building code for durability – for example, through a failure to comply with the external moisture requirements of the building code; or
(b) if the building work modifies or affects any specified system.
This exemption allows you to carry out any building work in connection with a window (including a roof window, whether it is fixed or opening) or an exterior doorway without needing a building consent where it is an existing dwelling or outbuilding. That is as long as the original doorway or window has not failed prematurely and replacing it will not modify or affect any specified system (eg sprinklers or
fire alarms).
If you are replacing a window, roof window or door, it is important to consider whether it originally met the durability requirements of the Building Code. In most cases, doors and windows in an external wall are required to last at least 15 years. Most windows and doors should achieve this requirement with regular maintenance.
If the door or window is older than 15 years and you are replacing it because it has rotted out, then this work will not require a building consent.
However, if you are replacing a window, roof window or door that has been installed within the last 15 years and it has failed (eg it has rotted out), this work will require a building consent. This recognises that replacing a window or door that has failed its durability requirements with a similar window or door could result in the replacement also failing.
ALERT!
All new building work must comply with the Building Code, including the structural performance requirements. Also note that, on completion of the building work, the altered building must comply with the Building Code to at least the same extent as it did before the building work was undertaken.
If you are considering building work that is close to or involves potentially load-bearing walls, it is important to get professional advice (eg from a chartered professional engineer, registered architect, building consultant or registered building surveyor).
Examples where this exemption could apply
Installing a roof window to an upper level apartment of a two-storey multi-unit dwelling (ie an apartment building). The skylight will be installed between the existing roof trusses without altering any specified systems.
A homeowner decides to replace a damaged, non fire-rated window that is 500 mm from the boundary. As the replacement window is within a metre of the boundary and as the new building work must comply with the Building Code, the window must provide adequate protection to the boundary (it could either be a fire-rated window or a non fire-rated window which is suitably protected; eg by a drencher system). The existing windows (which are non fire-rated) in the same wall can remain because the house still complies to the same extent as it did before the alteration (refer to section 42A(2)(b)(ii) of the Building Act).
Removing a dwelling's lounge window and covering the opening with external cladding and internal linings to form a wall with no opening. Note that minimum Building Code requirements will still need to be met for ventilation, natural light and visual awareness of the outside environment.
Following earthquake damage, a builder decides to install a bi-fold door to replace a pair of French doors leading from the ground floor dining room of a two-storey dwelling. As the wall opening for the new joinery is wider than the existing opening, he needs to install a new lintel to span the opening.
To gain more sunlight, a home owner decides to install a window in an external fire-rated bedroom wall which contains no other openings. As the window will be less than 1 metre from the boundary, the owner instructs the builder to install
a fire-rated window to meet the Building Code requirements.
Examples where building consent is required
A window installed in an existing outbuilding only six years ago needs to be replaced because of a rotten timber window frame. Replacing this window requires a building consent because it has failed its 15-year durability requirement.
The owner of a commercial building wants to install a roof window into an existing roof and ceiling to a top floor office. As this building is not a dwelling or outbuilding and as the roof window installation will affect the existing sprinkler system, a building consent is required.
/* featured_learn_list end */?> /* featured_news_list end */?>