JUNE APPRENTICE OF THE MONTH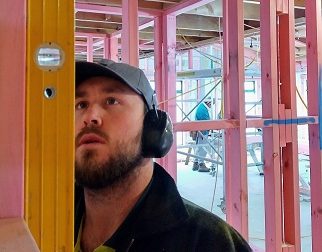 New Plymouth apprentice Ashley Knowles has demonstrated outstanding building aptitude for the second time this year, again earning himself the Apprentice of the Month accolade
Ashley's burgeoning skillset didn't lapse after becoming April's Apprentice of the Month – in June, the first-year apprentice carefully planned and carried out the installation of a new membrane roof.
Faced with the challenge of setting out the frame for a new membrane roof with an apex, two valleys and a gutter over an existing membrane roof, Ashley's first action in the June job was looking at the existing roof and creating a plan to improve it.
Next, Ashley needed to remove seven existing skylights and find the point for the roof's apex in accordance with the plans. He then went about finding the point at which the gutter started, dropping the height 50mm. Ashley then ran the valleys at a 45° angle from the starting point of the gutter to the edge of the new roof. Lastly, he made the new trusses with the correct fall as the plans stated.
The outcome was a nicely framed-up roof – ready for the structural roofing ply to be screwed onto, with 3mm gapping between each sheet to allow for expansion and allowing the membrane to be applied onto that.
"Taking the time to plan and set out a job at the beginning makes it easier and saves a lot of headaches," says Ashley. "Plus, it gets the job done quickly and correctly the first time!"
Ashley was thrilled to win a $160 Swanndri gift voucher for his efforts and recommends other apprentices make sure to enter.
/* featured_learn_list end */?> /* featured_news_list end */?>