Let's get this clear
17 Jul 2018, Prove Your Know How, Technical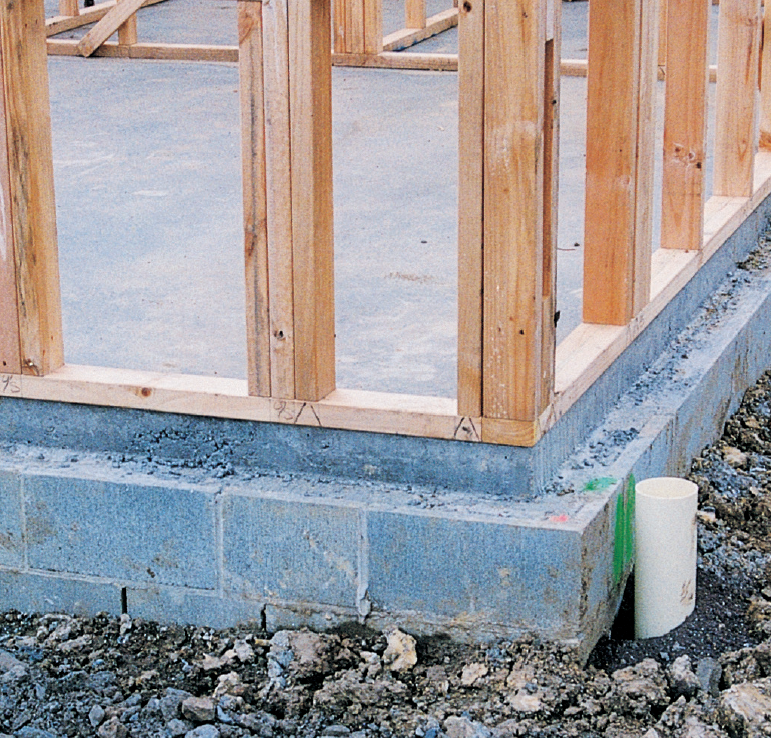 If the top of a concrete slab-on-ground floor is not high enough above the surrounding ground, there can be problems. The lack of clearance can increase the risk of water getting into a building and shorten the life of building materials. Here's a quick run-down on the clearances required for concrete slabs
Houses with slab-on-ground floors that have inadequate ground clearance can face specific problems:
Drainage slots for brick veneer wall claddings can get blocked or may even be sitting below ground level. Where this leads to water buildup, the result can be rot in timber framing and mould inside the wall and on interior surfaces.
Drainage slots at the sill for low or floor-level aluminium joinery can get blocked by paving or soil. This can lead to water damage inside the house.
Paving or concrete paths around the house that sit at the same level or higher than the floor increase the risk of water entering the house.
Blocked or restricted drainage/ventilation for nominal 20mm cavities behind lightweight claddings can lead to water damage.
Water splash from the adjacent ground onto the base of the claddings can results in a dirty finish and shorter material lifespan.
The key ground clearance requirements for slab floors are found in Acceptable Solutions E1/AS1 and E2/AS1 and NZS3604:2011 Timber-framed buildings.
E1/AS1 says that the floor level should be at least 150mm above the finished level of the ground around the building. It gives two other requirements:
Where the site is level with or above the road, the floor level must be at least 150mm above the crown of the road (on at least one cross-section through the site).
Where the site is below the road, the floor level must be at least 150mm above the lowest point on the site boundary.
(E1/AS1 only applies to sites up to 2,500m2 that are not low-lying, flood-prone, beside a watercourse or located where storm water would flow if drainage systems became overloaded. Buildings in these areas require specific design.)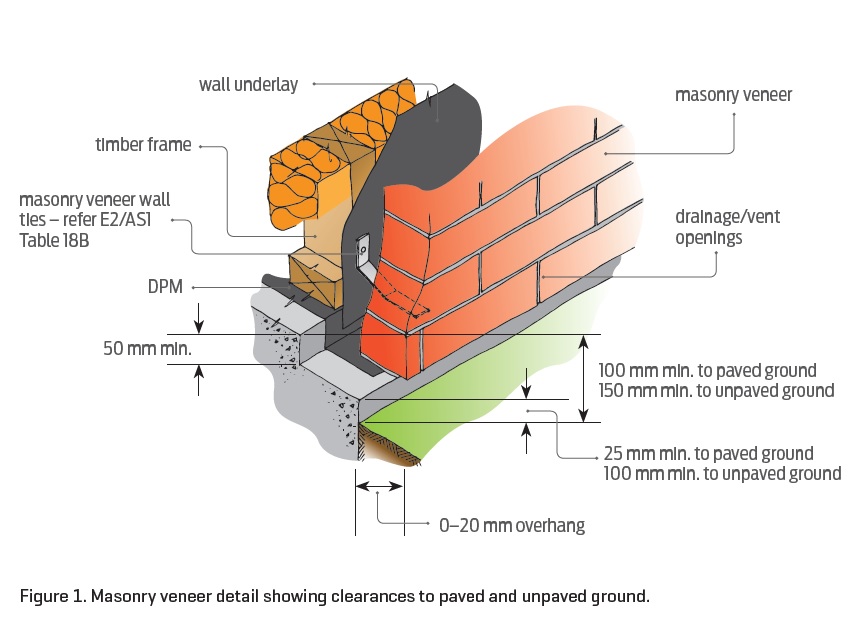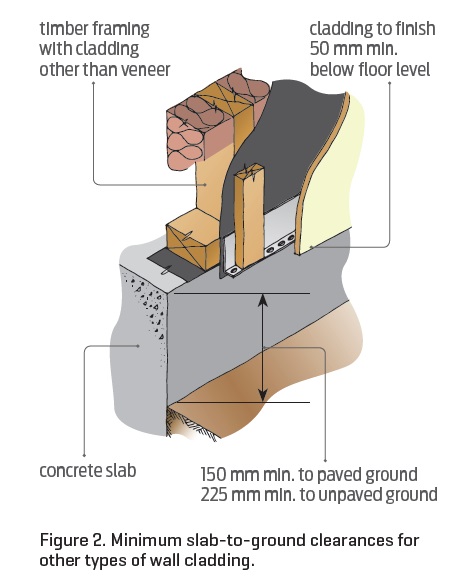 Figures 1 and 2 adapted from Acceptable Solution E2/AS1 show the minimum clearance set out in that document. E2/AS1 requirements for slab floors and brick veneer cladding (Figure 1) are:
i) 100mm minimum above paving.
ii) 150mm minimum above unpaved ground.
Rebate level to floor level of 50mm minimum.
Rebate level 25mm minimum above paved ground.
Rebate level 100mm minimum above unpaved ground.
The E2/AS1 requirements for houses with slab floors and other cladding types (Figure 2) are floor levels that are:
150mm minimum above paving.
225mm minimum above unpaved ground.
When planning slab floors, take account of the intended finished landscaping around the house to avoid the minimum clearances not being met.