PAC's first 'Apprentice of the Month'!
25 Jul 2017, PAC

PlaceMakers Apprentice Crew recognises members for their ongoing efforts and learnings on the job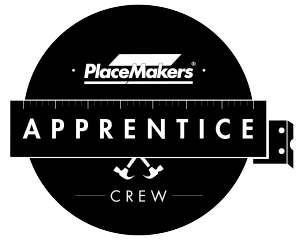 Christchurch-based PAC member Michael McEntee was thrilled to be named PAC's first 'Apprentice of the Month' in June.
The monthly competition, open to all PAC members, recognises apprentices for overcoming on-the-job challenges and sharing what they've learned as a result.
To enter, PAC members must explain the biggest challenge they faced on a job, how they overcame it, what the outcome was and what they took away from the experience.
Michael, in the second year of his carpentry apprenticeship with BCITO, works for Procuro Limited in Christchurch and visits PlaceMakers Riccarton for supplies.
His biggest challenge last month was to build an Ideal garage with very basic plans that had minimal detail. To ensure it was done properly, Michael took his time to consider the plans before placing the flashings and super clad. He also contacted the manufacturer for details on the barge flashing/guttering intersection. The outcome was a solid garage, lined with GIB plasterboard and custom joinery for the windows.
When asked what he had learned from the experience, Michael said: "to take the time to think about how things go together and not to be afraid to contact the manufacturer for advice – they want their products used properly just as much as we want to use them properly."
Judges said: "choosing a winner was a difficult task, as there were so many great entries! Each and every PAC member who entered has shown that they are giving it 100% on the job."
"Entries were judged based on the nature of the challenge, initiative and grit shown by the apprentice to overcome it and the impact, as well as the key learning," said one of the judges. "Our winner demonstrated all these attributes – he was calm when faced with a job where he did not have a lot of information on hand and approached it logically, not hesitating to contact the manufacturer to make sure he got it right."
PAC preps for LBP status
In addition to sharing an experience and having the chance to win some great prizes, filling out an entry form for 'Apprentice of the Month' helps prepare apprentices for future Licensed Building Practitioner responsibilities, as it is similar to recording on-the-job learning, a required skills maintenance activity.
"It's great to see apprentices identifying the learning that occurs on the job at such an early stage in their career," said LBP registrar Paul Hobbs.
/* featured_learn_list end */?> /* featured_news_list end */?>