SHARING THE KNOWLEDGE
16 Jan 2020, Industry Updates, News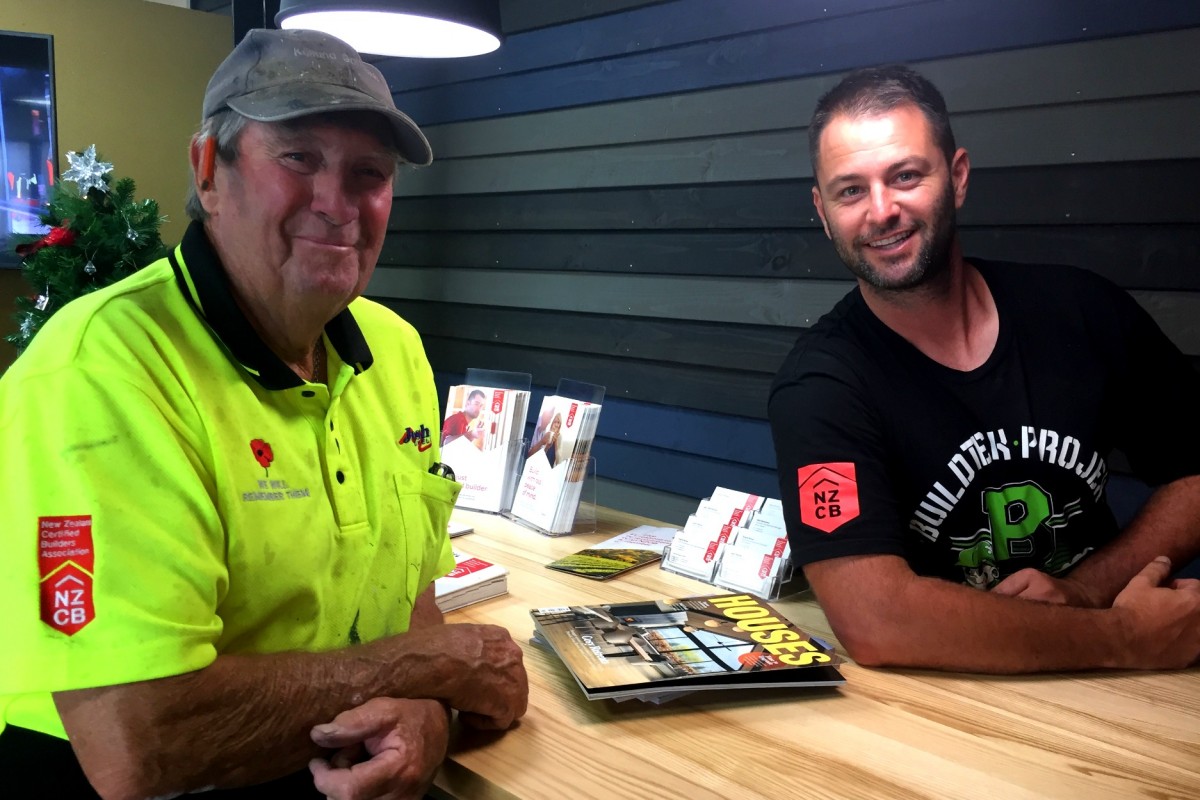 New Zealand Certified Builders (NZCB) has introduced a new membership category, 'Rusty Hammers', to encourage experienced older builders to mentor the younger generation
Inspired by positive results seen in its current mentoring programme, Rusty Hammers is designed to encourage older builders, who are spending less time on the tools, to retain their trade association membership at reduced cost in exchange for providing mentoring to other builders in earlier stages of their careers.
NZCB Chief Executive Grant Florence says finding new ways to retain and continue supporting highly skilled older builders, while also harnessing their experience to nurture the next generation is important — especially given the ongoing high demand for builders and an increasingly complex regulatory and business landscape.
"Builders, who've been on the job for decades, have built up a depth of practical experience that inherently extends well beyond what younger builders have had a chance to learn as part of their  formal apprenticeship training, or in their first few years on the job. Having access to someone who's 'been there and done that' is incredibly valuable for our younger members who are being mentored," says Florence.
To be eligible for NZCB's Rusty Hammers membership category, builders need to be working for only around 20 hours per week and to have been a full NZCB member for over ten years. They  must also commit to mentoring a younger builder they are matched with for 12 months, meeting at regular intervals as agreed between the mentor and mentee.
The mentoring focuses not only on technical trade skills but also on business skills, leveraging the mentors' decades of experience owning small-to medium sized building businesses.
"Owning a small-to-medium sized business, as many of our members do, is challenging for anyone in any sector of the economy. In our sector, there is ongoing regulatory change to navigate and new demands and opportunities from developments in building materials and technologies.
"Enabling early-career builders to learn from those who've run successful building businesses for a long time, and enabling those older builders to retain their membership of NZCB, is a win-win for everyone, including consumers who ultimately benefit from this sharing of best practice," says Florence.
Tauranga builder and NZCB member John Marsh, known as 'Swampy' by his colleagues, has been a mentor through the existing programme for three-plus years. As a veteran with more than 50 years' experience in the industry, Marsh says mentoring programmes such as Rusty Hammers are invaluable and facilitate more than just knowledge sharing.
"It does a lot for improving communication on site between the younger builders and the more experienced ones," said Marsh. "People don't talk to each other as much as they used to. They tend to spend time on their phones during breaks and don't tend to ask questions of the older people on the team.
"The mentoring programmes encourage productive discussion, while establishing a culture of not being afraid to ask questions."
As part of NZCB's existing mentorship programme, John currently provides business advice for a self-employed builder in his early 30s, meeting once a month. However, he also finds the time to mentor six younger builders in their twenties at his place of work.
"Investing in the next generation of builders is very rewarding. Whether it's teaching them theory, the basics of good business practice, or being a respectful worker, it's essential they can learn from those who have experienced success. This should help give them the skills to carve out their own career," said Marsh.
He also believes the benefits are mutual, as the younger generation is always teaching him new things.
"I'm always learning from the younger workers. They've helped me a lot with technology; they have plenty of innovative ideas and provide a different perspective.
"It's important to ensure that we teach them the essentials, but also allow them to do things their own way."
/* featured_learn_list end */?> /* featured_news_list end */?>