Veranda rafter fixings: getting it right
08 Apr 2019, Learn, Prove Your Know How, Technical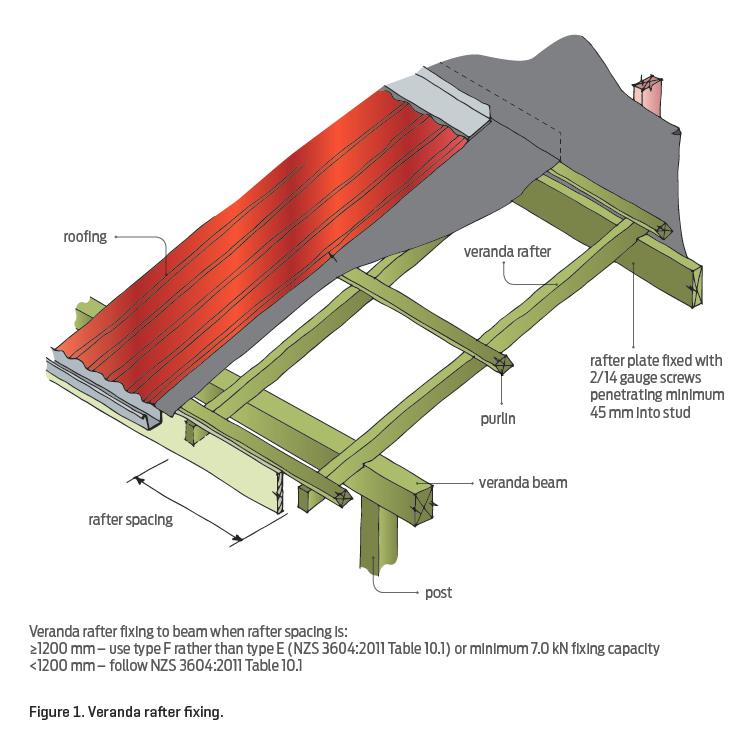 While NZS 3604:2011 Timber-framed buildings provides the know-how for most fixing jobs, there are some gaps when it comes to certain tasks builders may face. One of those is fixings for veranda rafter, which span between a ribbon plate attached to the building wall and a veranda beam
The same fixings as used for ordinary rafters can't be used in this situation. This is due to wind uplift load under verandas, as well as uplift forces acting on the top surface of the veranda roof, especially where rafters overhang the beam.
Table 10.1 from NZS 3604:2011 can be used as a starting point, with a few tweaks in some cases.
Where the veranda rafter spacing is less than 1200mm, no adjustment is required; where it is 1200mm or more, use type F fixings to the veranda beam. An alternative fixing with a capacity of 7.0kN would also be suitable.
Rafter fixings to a ribbon plate can be the same as those in Table 10.1.
The ribbon plate should be the same size as the rafter and fixed to each stud with 2/14-gauge screws. Screw length should be enough to pass through the ribbon plate and cladding and penetrate at least 45mm into the stud.
/* featured_learn_list end */?> /* featured_news_list end */?>