BEX THE BUILDER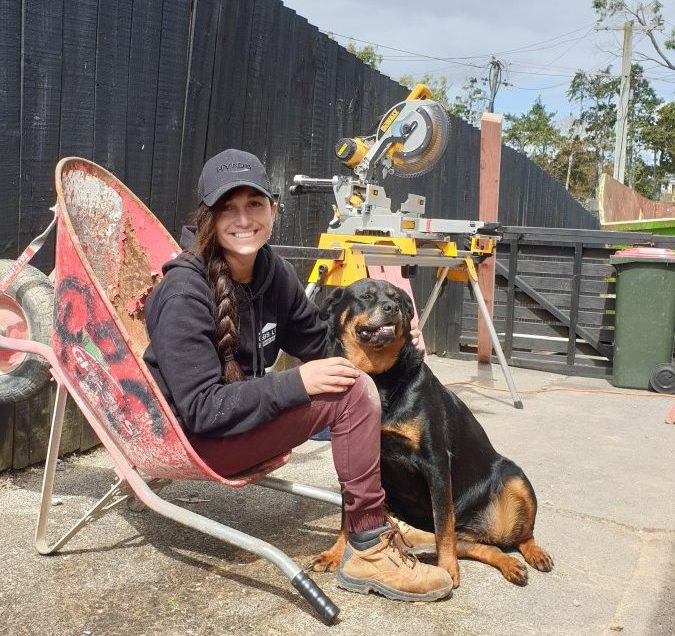 Our apprentice column provides an opportunity for PAC members to share their views, experiences and ideas, while providing insight for builders who employ them.
PAC member Rebecca Smith is looking to break down the barriers – real or perceived – that are preventing more women from entering the construction industry
At the ripe of 'old' age of 25, Auckland-based PAC member Rebecca Smith admits she was a bit early for a mid-life crisis, but it happened all the same – at least career-wise.
"I was working in sports and recreation, which felt like it was dying, and I wanted to work for an industry that was booming – so construction was an obvious choice," says Rebecca.
A fit and outdoorsy person with a can-do attitude, she says her only reservations were around her gender.
"I did wonder about being a woman in such a male-dominated industry. I couldn't find much about women builders online, so I asked a friend of mine who owns a building company about his thoughts on the work, and having a woman on site."
She says there's no doubt she spoke to the right person.
"He was really supportive, and encouraged me to look into a building apprenticeship; then he tagged me in a job advert a few weeks later. Three years on, I am still working for that company and about six months away from completing my apprenticeship!"
Suited to site
Rebecca says she now feels right at home on site.
"I absolutely love it! It's well-suited to my personality, because I love being outside, facing different challenges every day, and I enjoy the interaction with others," she says.
"When I was in an office, despite being surrounded by people, it felt like everyone was staring at their screens all day. In this job, you're usually communicating with someone."
Rebecca works for Qualified Building Solutions, an Auckland-based company focused primarily on high-end residential. Founded in 2009, she says she is grateful to work for a very professional company where she feels respected and valued.
"I feel like me being a female is such a non-issue that I forget that I'm one of few females in the industry, but I don't mind that either," she says.
"The only real difference is potentially my size and strength. I am small, 55kg and 167cm, so I'm not the first to be called on to help move steel framing, but I'm a great option for jobs in smaller spaces in the roof or under the house."
She says her fitness has come a long way, but promises aspiring apprentices it's not full-on fitness every day.
The BuildHERS Club
Rebecca's boss has been particularly supportive, and has hired two more female apprentices since taking her on. He's also big on using Instagram for marketing and networking, and encouraged her to start her own page.
"He had seen another female apprentice on Instagram – She Builds Bro – which was part of the reason he decided to try and help diversify the industry by hiring females. He suggested I do something similar, and so I set up my @bexthebuilder account.
Rebecca says she's been amazed at the response, with dozens of female apprentices and builders commenting and messaging her directly.
"Most of it is positive, but I've had a few messages from girls who are struggling. They say companies aren't hiring them as they think girls will be a distraction, which is really sad.
"I don't think it's about resentment for women in the construction industry, I just think it's unchartered territory, so the more we can do to raise awareness and normalise it, the better."
Rebecca and Chelsea Roper (She Builds Bro) are committed to doing just that and are in the process of starting 'The BuildHERS Club'.
"We just want those in the industry to feel supported, and for those considering a career in building to know there are others doing, and enjoying, it!"
/* featured_learn_list end */?> /* featured_news_list end */?>