HELP YOUR MATES
16 Mar 2020, Learn, Prove Your Know How, Safety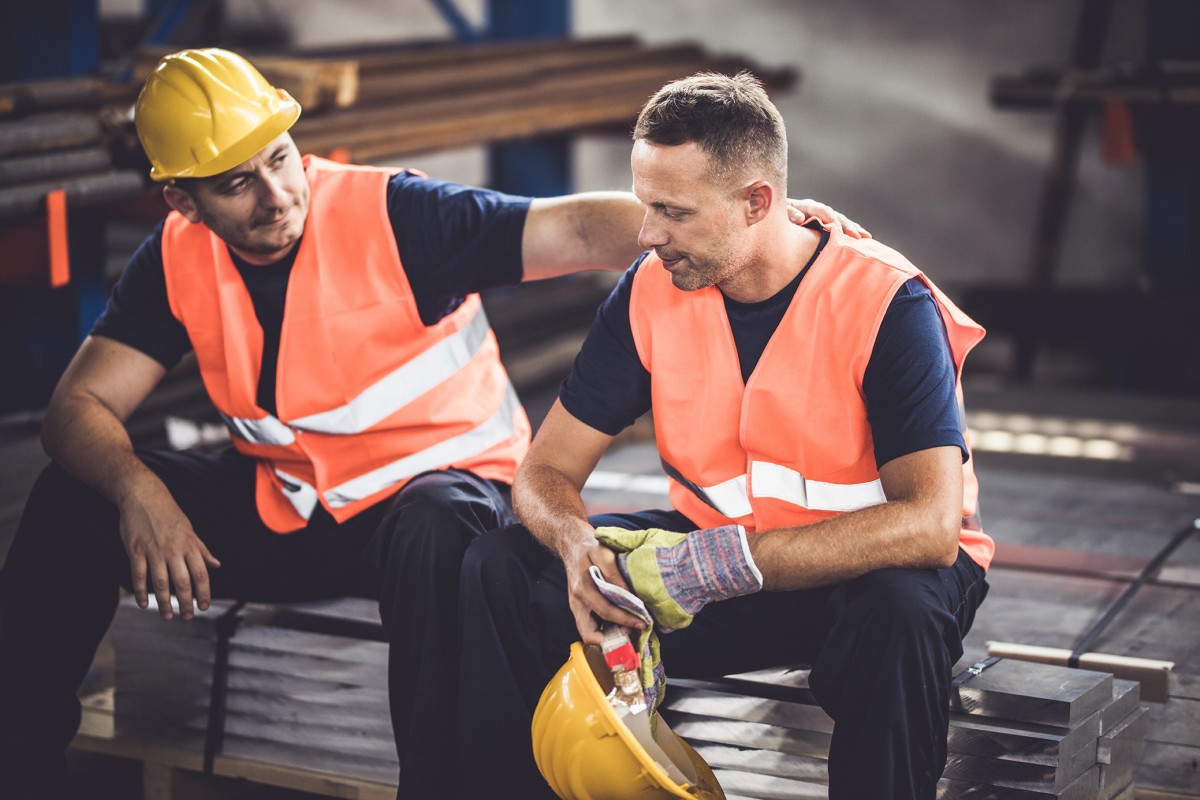 A new pocket guide suggests how to have conversations about mental health
Got a mate who's looking down, isn't themselves, maybe gone a bit quiet? Want to help but aren't sure how?
A new pocket guide about how to have conversations about mental health has great advice on looking after friends and colleagues.
"It's easy to lend an ear, listen, and have a conversation with someone," says Paul Lynch, a guy who knows what it's like to do it tough.
The carpet and vinyl installer from Christchurch lost his brother Brett to suicide in 2013. It took him a while to shake off the resulting anger and darkness that he felt, but he did, and wrote the book Suicide; Aftermath & Beyond about it. He has made it his mission to help people in the trades talk about things that are getting them down, and he says the new guide provides advice on how to do so.
Paul says people don't have to be a counsellor or a therapist to help, they just have to take time to listen.
"In my experience about 99 times out of a hundred, all that's required is a conversation. It's that simple act of letting people talk or share something they might be going through.
"Just listen, let them speak, and validate what they're saying. It doesn't have to be a crisis intervention." (Though there are emergency numbers provided in the pocket guide if the situation requires higher intervention).
"I know myself that once you've unburdened yourself of something that's been troubling you, a lot of the pressure goes away with the words."
The free pocket guide has been created by Dr Kate Bryson of Axon Consulting, one of the key researchers who worked on Site Safe's study into suicide in the construction sector last year, in consultation with industry people.
Site Safe is pleased to be able to offer the guide in conjunction with Construction Health and Safety NZ (CHASNZ), the Mental Health Foundation and Mates in Construction.
The guide is free for download or ordering on the Site Safe website.
The key messages in it are:
Be approachable – don't judge and don't try to have all the answers.
Be empathetic – try and put yourself in their shoes, or boots.
Be willing to listen – give them your full attention and let them know it is confidential between you and them.
Breaking the ice
Auckland electrical contractor Dave Burt uses a question to break the ice with people, which is one of the suggested phrases in the guide: "What's happening in your world?"
It's an open-ended question he came up with after dealing with depression himself. It's detailed in his book Lengthening the Shadows. It can be a dark topic but, according to reviews, the book is a moving, funny account about  a guy who struggled on by himself for too long.
One of the three winners of the Kalmar Mental Health and Wellbeing Award last year, along with Paul Lynch and the team from building company, The Switched On Group, Dave put money from his book towards the pocket  guide and he says it is full of good advice.
Kristal McGill from The Switched On Group also says the pocket guide is a top resource and they will use it as the firm rolls out its own initiatives this year. Currently it is focusing on how alcohol can affect people at work and  home and how to reach out to services if they, or someone close, may be struggling with addiction issues.
The company is also about to run workgroups with managers and supervisors to help them spot people who are distressed – including how to keep an eye on themselves – and is giving them the resources to help support their people.
"This will build on training provided during 2019 and will take all people leaders through our best-practice approach, our resources and our support for both the manager and individuals involved," Kristal says.
Just listen
Paul says one of the issues people worry about in dealing with mental health is that they don't feel they're qualified to help.
"The truth is, you don't need to know anything about it, you just need to be a decent enough person to allow somebody to speak and to get whatever's on their mind, off their mind."
He says that's where the pocket guide helps.
"I've always said, it's not like we don't care or want to check up on our mates, it's just we often don't know how to. We need to change that."
Dave agrees, and he says helping someone is actually pretty easy.
"You may not be aware, but every one of us possesses a very powerful gift. You may not know that you have this gift, but trust me, you do – it is the power to give and provide hope.
"Having experienced depression, I can tell you hope is something I will never take for granted again. For those dealing with a mental health issue, hope is all powerful.
"Think of someone in your life who means a lot to you, be it a family member, colleague or maybe a mate," Dave says.
"Take the time to connect and ask them what is going on in their world. You might just be surprised by what you hear, and what a difference you can make in someone else's life."
Site Safe is a not-for-profit, membership-based organisation that supports a culture of health and safety in New Zealand construction. For more information go to: www.sitesafe.org.nz
/* featured_learn_list end */?> /* featured_news_list end */?>