MAY APPRENTICE OF THE MONTH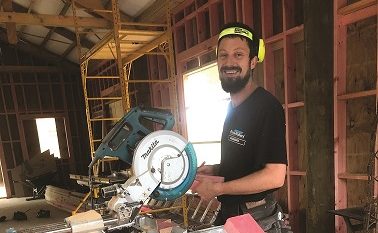 Wellington apprentice proves himself truss-worthy by building trusses for a fully engineered home from scratch
Only two years into his apprenticeship, Wellington-based PAC member Conrad Kotze was given an opportunity not many builders have these days – the chance to build trusses from scratch. He rose to the challenge impressively, earning himself another Apprentice of the Month title in the process.
The double trusses Conrad had to create for the engineered home were to span 6m and would be made from 200x45mm macrocarpa wood. Conrad (who is profiled on the opposite page) cut and completed the king posts, then put the rafters into place over the template. Next, Conrad had to drill straight through 220mm wood, all the while ensuring the holes met up at the right place.
"It wasn't easy," says Conrad. "To insert the rods and bolts as per the building plans, we had to move the trusses by hand from one place to another to free up the template."
Once all the rafters and king posts were in place, Conrad and his boss used templates to mark the holes from both sides of the trusses. To do this, they suspended the trusses off the template, then used an extended boring bit (customised for the project) and drilled the holes halfway from each side to get it to line up. They also used a speed square next to the drill to check they had drilled straight. To move the trusses into place, Conrad and his boss had to use 2x4s and 300mm cut-off poles for leverage.
Out of all the holes they drilled, Conrad says only one was a bit off.
"Pretty amazing, given the complexity of drilling 64 holes, and it wasn't too hard to fix – we managed to redrill it in the same place to meet in the middle and get the nail plates, rods and nuts lining up," said Conrad.
"The experience taught me I need to allow myself the liberty to potentially screw up, and yes that does happen too!" Conrad says.
"However, the chance to learn and get it right is more valuable than opting out without trying."
Conrad – who was also October 2020 Apprentice of the Month – wins a $150 Hunting & Fishing voucher.
/* featured_learn_list end */?> /* featured_news_list end */?>