NZ researchers reveal exciting projects
20 Apr 2022, Industry Updates, News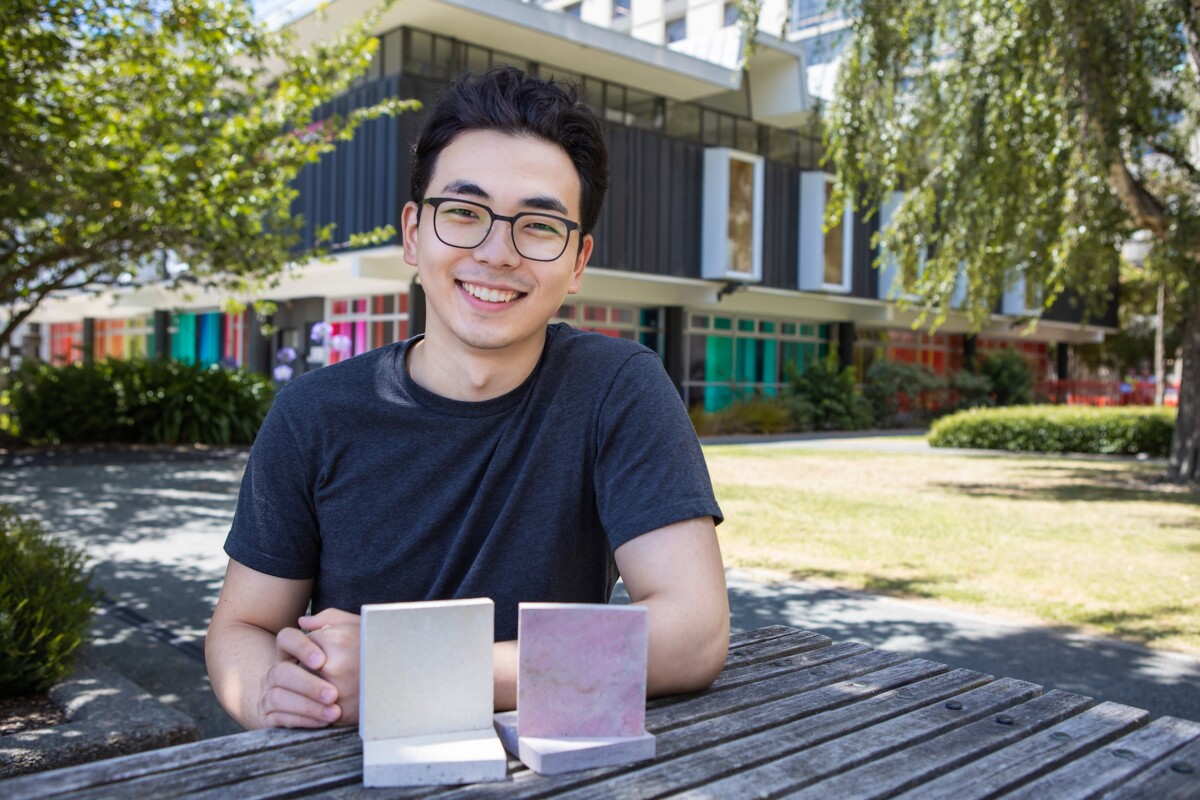 University of Christchurch researchers have revealed two exciting projects that could have real-world implications for sustainability in construction
A team led by University of Christchurch Associate Professor Minghao Li has shown that cross-laminated timber (CLT) walls are feasible and cost-competitive with more traditional methods in the construction of low-rise buildings. 
Meanwhile, Andy (Mihong) Park, a University of Canterbury student, has won a $20,000 commercialisation award to continue research and development of his seaweed plasterboard.
The two projects investigated different methods of reducing the amount of embodied carbon trapped in buildings. Park focused on developing a new material, while Li proved that timber can be used in low-rise buildings and is capable of withstanding earthquake forces.
Park's project ran for 12 weeks and used green, brown and red seaweed to create a glossy product that retained a natural hue.
Park says the sample plasterboard is made from algae gathered from the beach and believes it could be farmed commercially if demand was there.
"Seaweed is easy to cultivate and can be farmed offshore," he explained, "which makes it an attractive, low-cost farming commodity."
Park's innovation could be supported by a new $5m commercial regenerative seaweed farming pilot scheme in the Hauraki Gulf and Bay of Plenty. Announced in December, the pilot plans to help seaweed farmers establish their own farms using regenerative ocean farming methods.
The perfect weed
As seaweed grows quickly – up to 0.5m a day – it has potential to be a renewable, cheap material source that could help reduce carbon emissions.
Seaweed absorbs carbon from the atmosphere and contains boron, a natural fire retardant, which means it wouldn't have to be chemically treated. As the Government pushes to increase the sustainability levels of the construction industry via updates to the Building Code and legislation that mandates a minimum Green Star level for new government buildings, using more environmentally friendly materials will become more and more important.
"Seaweed plasterboard offers a viable green alternative to traditional plasterboard," said Park. "Additionally, when seaweed is combined with cement, the strength of the resulting concrete is increased. Seaweed is also recognised for its ability to absorb and release moisture and is a greener alternative to traditional passive fire protection materials."
Something in the water
Associate Professor Minghao Li and his team proved that CLT could be similarly useful in reducing the construction industry's carbon footprint.
"With the right connections, CLT buildings can be really strong and resilient in an earthquake. If we can put more wood from sustainable plantations into buildings, we can lock carbon into those buildings for at least 50 years, which will have great benefits for New Zealand to achieve our carbon-neutral goals.
"The walls are pre-fabricated off-site, and you only need a handful of staff to put the walls together, so you make savings and can build much faster by using timber."
Li said that CLT is more sustainable than concrete, can provide efficiency savings and has high earthquake resistance.
Li and his PhD student Ben Moerman designed high-capacity connections to resist earthquakes and protect the timber walls. Moerman said they designed tests to find out how multi-storey walls built using CLT performed under earthquake conditions.
"We have tested those large-capacity connections that tie the walls down to the foundations to study their performance in an earthquake," said Moerman. "The main benefit is that, after an earthquake, you can simply replace the dowels and the buildings will be just as strong as they were before the earthquake."
A further benefit is that engineered timber weighs 80% less than concrete, but has similar strength, meaning much lower earthquake loads.
Drastic changes require innovative approaches
New Zealand Green Building Council chief executive Andrew Eagles told Under Construction that both projects can herald an exciting future.
"We're seeing an increasing interest in wood and renewable, less-carbon intensive materials to replace the likes of concrete and steel. At the same time, we're seeing concrete and steel manufacturers innovating to reduce their footprint and provide better alternatives. 
"The embodied carbon in our buildings contributes half our sector's emissions and we won't tackle that without some drastic changes to what we build with. We will be reliant on more sustainable materials – ones that aren't polluting our planet during the manufacturing process and can break down or be reused when it is no longer needed."
Not ready yet
McBrimar Homes managing director Mike Lowe urged caution, saying that while the product may be good, getting it to market could be a long process.
"I think everyone would probably be open to using a product like the seaweed plasterboard or CLT; however, getting it into use won't be as simple as switching material, he said. 
"They'll need to be integrated into Standards or have a CodeMark and have all the documentation in place so designers know how to specify it and we know how to build with it, so it's not as simple as just switching."
Clients are beginning to ask about more sustainable ways to build houses, says Daniel Nolan from Nolan Building, and research of the type carried out at the University of Christchurch could fit the bill.
"We're open to trying new things and being more sustainable is definitely something that comes up in discussion with clients. We're open to using anything that's innovative and has been properly tested, but it also needs to meet demands and be priced right."
/* featured_learn_list end */?> /* featured_news_list end */?>