Offsite insight – the future of building?
01 Apr 2021, Industry Updates, News, Prove Your Know How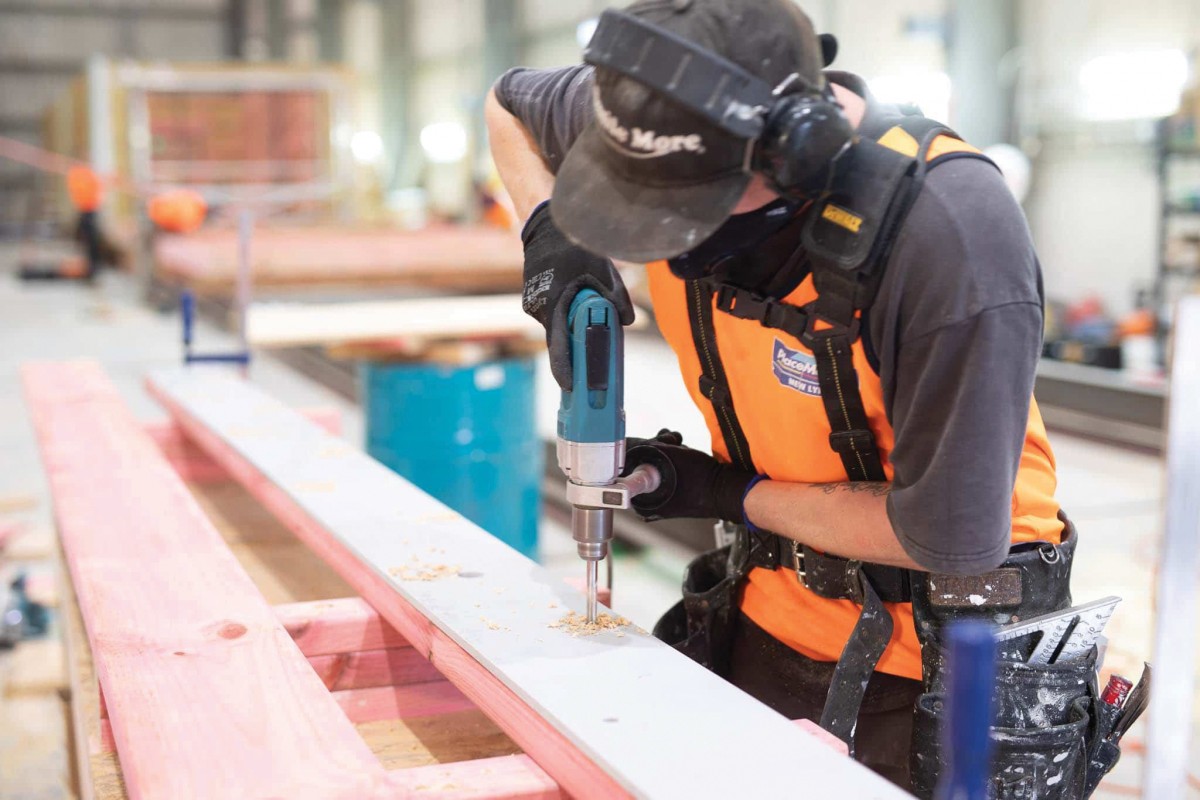 With a shortage of homes and the skilled labour to build them, finding construction methods that speed up the build process and use labour more efficiently is a hot topic. We take a look at the rising use of prefabrication and talk to some of the big players in the sector
On a small scale, prefabrication, also called offsite manufacturing (OSM), has been common in New Zealand building for decades, with many residential builds using frames and trusses built offsite. Plenty of builders will also remember some of their school classrooms referred to as 'the prefabs'.
There have been other examples of offsite manufactured housing in New Zealand's past too. Beginning in the 1920s, the Railways housing programme used elements of OSM. The Hydro Scheme housing from the 1940s to 1970s were OSM buildings, and some building companies, like Lockwood Homes, have used elements of OSM from the 1950s onwards. So, the OSM concept is far from new here.
However, with significant players entering the OSM market, and the potential for large-scale investment from government clients such as KiwiBuild and Kāinga Ora, OSM appears poised to provide much more than New Zealand has seen to date. There is a continuum of OSM – from frame and truss elements within a traditional built-onsite home, to a complete home built offsite, with taps and light fittings installed, craned off the boat from China. Between those two ends of the spectrum there now exists a range of offsite manufacturing options.
Not all smooth sailing
While the potential for prefabrication to take a larger slice of the new-build pie than has existed for a number of years, there have been notable stumbles along the path to where the OSM industry sits now.
Ehome and Matrix homes were both early adopters of OSM in the NZ market and did not survive the early stages, going bust in 2015 and 2018 respectively. Both pointed to consumer-reticence about OSM and lack of government commitment to make orders for public housing as contributing factors in their demise.
Small here, big overseas
Compared with many international building industries, New Zealand's use of OSM is small, with about 10% of our builds utilising OSM techniques (beyond frame and truss). By comparison, Sweden's homes are 90% OSM and Finland's are 50% OSM – partly prompted by a need to overcome the short build window that comes with such a long and cold winter.
In the United States, around one third of single-family houses are manufactured offsite or use modular components. However, the level of OSM in New Zealand appears to be changing fast.
What's different now?
The need to resolve the longstanding shortage of housing has been labelled by government as "extremely urgent". As a response to that urgency, the government's public housing ministry and the main supplier of state houses, Kāinga Ora, is actively supporting and encouraging increased use of OSM.
Currently, 12% of state homes under construction use some OSM techniques (beyond frame and truss) and Kāinga Ora has stated that it is expanding its OSM pilot program to trial more new products, design solutions and offsite manufacturing techniques.
With that state customer in the background, a number of large-scale OSM manufacturers have set up in New Zealand. Several are large organisations with significant building business experience, in New Zealand and overseas, such as Fletchers' Clever Core and Panasonic Homes from Japan (in partnership with Mike Greer Commercial).
Building Act changes
The Select Committee was due to report on the Building (Building Products and Methods, Modular Components, and Other Matters) Amendment Bill in early March 2021 and is likely to become law.
The key provisions in the Bill relating to OSM are the introduction of a new certification scheme, which will allow prefab manufacturers to be certified to manufacture what the bill calls "modular components" and demonstrate compliance with the Building Code. Proponents of the Bill promise it will provide a shorter and more efficient consenting process for certified manufacturers.
These changes will support existing OSM manufacturers and likely encourage new entrants.
Insiders' insight
There are 40 to 50 prefab building companies of various types now in operation in New Zealand with more preparing to launch. To get some insiders' insight, we spoke to a number of the big OSM players, to get their views on the past, present and future
of OSM in New Zealand.
Prefab NZ
Scott Fisher, Chief Executive
PrefabNZ is an industry body that represents and promotes offsite manufacturing in New Zealand. Chief Executive Scott Fisher points
to 2019 as a significant year for OSM in New Zealand.
"First, I would cite the Construction Sector Accord as significant in that it encourages government and the construction industry to work together, which is necessary for the level of investment and commitment needed to make OSM work well.
"Second, the Building Amendment Bill, which is going through Parliament now, has OSM front and centre with its focus on improved consenting and factory certification.
"Third, the setting up of Kāinga Ora, pulled the fragmented and isolated parts of government's role in provision of housing all under one roof, and, because it's the biggest building customer in town, this matters.
"Lastly, I would say the changes to the government's procurement rules – the move away from 'lowest price wins' was a big deal too."
Fisher sees the tide turning, with OSM set to benefit from government investment and support, and a small number of existing big players soon to be joined by more.
"Unlike a traditional building business, OSM requires heavy capital investment in factory, machinery, and workforce. To invest in this there needs to be a consistently strong pipeline of work. Kāinga Ora and a range of government agencies can supply this steady work.
It's not a matter of offsite and onsite being mutually exclusive either, as Fisher explains.
"OSM isn't just either/or. Clever Core and Concision are prime examples – much of their building takes place off site, but there is still work for trades to complete on site."
Fisher points to climate change and the government's aim for lowering the construction industry's carbon footprint as an emerging factor that may soon be pushing OSM.
"Construction has a big carbon footprint and I think there are regulations coming that will benefit OSM, because traditional building has elements of waste that OSM does not. If you go back five years, everyone looked
at affordability as the driving force behind OSM, but the need for sustainability could be the next big push for the industry."
Modul Homes
Tony Houston, Managing Director
Modul Homes is different from the other offsite manufacturers here, because its prefabs are manufactured entirely offshore and shipped to New Zealand as a single unit. The home is then installed on foundations at the site, with just the connections to electricity and water to be completed.
Tony Houston, Modul's Managing Director, has a long history in traditional onsite construction in New Zealand, and now believes the future of building at scale in New Zealand relies on OSM. He compares the shift to 'manufacturing' a house offsite in a factory to that of manufacturing cars.
"In the early days, we used to 'build' wooden buggies, one at a time. That was obviously pretty slow and could never provide big numbers. Then we shifted to 'manufacturing' cars – that's what has to happen with houses. I don't believe it's suitable for every house, but for housing at scale, it's necessary."
Asked what has changed for OSM in the past couple of years, Houston says the council's attitude has shifted.
"Auckland Council now has a special consenting team for modular offsite manufacturing, and their attitude towards OSM is very positive. This makes things much simpler for us."
With regards to the future of OSM in New Zealand, Houston suggests the offshore model has unique benefits.
"The future of scale building in New Zealand is definitely offsite manufacturing, and in addition, I believe manufacturing offshore
has further benefits, especially when you consider the skilled labour shortage in construction New Zealand faces. When all the local builders are really busy like they are now, it can be hard to find builders for affordable houses, whereas we can get the necessary labour offshore."
Clever Core
Craig Champness, General Manager
Clever Core, a Fletcher-owned business, opened its 8,300m2 factory in Auckland in late 2019. Initially providing panellised walls and cassette floors and ceilings to its own Fletcher Residential development arm, it is now branching out to other developers.
Craig Champness, General Manager, says the market interest is stronger than ever and consenting has become easier.
"More construction companies are coming on board, having seen the speed and quality OSM can deliver, and big customers like Kāinga Ora are making larger commitments to OSM housing, because of these advantages. With this sort of commitment, the industry can justify the investment OSM requires.
"At the same time, many of the initial concerns around compliance and the ease of consenting have been addressed."
Asked if there are barriers still to overcome, Champness says developers need to become more familiar with the OSM process and employees will need to have the right skills.
"We need to educate customers that OSM is design-led, so getting design questions answered well before the consenting stage is vital. Also, OSM requires workers to have different skills, so ensuring these skills can be developed will allow for growth in new technologies and methods for housing construction."
Champness says working with product suppliers on their range of available products will bring benefits.
"The OSM industry needs to work with manufacturers of raw materials to ensure the quality and tolerances of their products are up to the standard required. Also, most manufacturers' products are based on 'stick build' construction, whereas manufactured closed panels need a more specific range of products. So, working with producers to supply what we need is the next advancement the industry needs to work on."
Smart Solutions Homes
Craig Kellington, Director
In 2018, after ten years in the renovation industry, Craig Kellington founded offsite manufacturer Smart Solutions with a vision to provide quality housing at scale, by building smarter. Smart Solutions are a 'volumetric' builder, meaning everything is built offsite as rooms or pods, trucked to site, then joined together.
Asked what has changed for OSM in recent years, Kellington points to a shift in Kiwis' housing expectations.
"The Kiwi dream of a 600m2 section with a 100m2 three-bedroom house, where every house on the street is different, is shifting. I'm from the UK, so housing estates with a similar style of house are not alien to me. But this concept was alien to Kiwis until quite recently. Some of the new large-scale developments around Auckland, like Hobsonville, have changed people's mentality on what a nice comfortable first home is – especially for the younger generation.
"It just comes down to what you are used to. No one really needs their house to look the exact opposite to their neighbour's place. Besides, you can make the same house look very different just with cladding and cladding choices."
Asked what barriers still need to be addressed, Kellington points to bank finance and developers and group builders needing to take the time to understand the benefits they could get with elements of OSM.
"We don't get paid until the home is attached to the land. Westpac have been brilliant and forthcoming for mum and dad investors. But for developers, the funding is carried by the company. I think there needs to be more understanding from the banks to make it work. We are lucky that we build quickly so we can cover the gap in money. But there has to be a smarter way.
"Often a builder will come to us keen to get involved with OSM, but they're busy and so when the times comes, they go back to what they know and they'll say: 'I know this might not be best way, but we know it so we are sticking with it'. But I would say once they get to know what OSM can offer them, they will see that they can get more houses for the same costs and this has to be good for them."
Concision
Tony Whale, General manager
Concision is recognised as one of the first big players in OSM in New Zealand. Specialising in panellised components, Concision has already made significant investment in plant. General Manager Tony Whale provided us some of his insights.
Whale believes one of the big changes happening now is that more big players are joining the market.
"OSM has become more mainstream, just in the last year or so. It was hard being the lone ranger in this field! But now things are changing. Fletchers are up and running with their Clever Core, and Hector Egger, an experienced European company, is just getting going in Central Otago. These are both big players."
Rather than seeing this as a threat, Whale sees the growing market as a positive for the industry and his own business.
"With OSM being more widely understood, it's less scary for our big customers to commit. Including big government agencies like Kāinga Ora, and the Ministry of Education and the Ministry of Defence, along with big developers too."
Asked about the future of OSM, Whale says it will become part of the accepted way of building because it provides greater efficiency and can still work well when there is a skills shortage.
"Frame and truss is mainstream now and OSM will get there – it's the natural progression. OSM also helps solve the undersupply of skilled labour facing New Zealand."
What does OSM mean for onsite builders?
It is too early to fully understand how the traditional onsite building industry in New Zealand will be affected by developments in OSM, but it seems likely OSM will play a big role in filling the undersupply of affordable housing.
Beyond that, it is worth considering two comments above.
First, that OSM is not suitable for all builds – bespoke housing is not easily accommodated within its prescriptive framework.
Second, OSM is not all or nothing – there are likely to be opportunities for traditional onsite building to incorporate elements of OSM as the products develop.
So, with that in mind, there are good reasons to think the two approaches of onsite and offsite can coexist and build into the future.
/* featured_learn_list end */?> /* featured_news_list end */?>