CONTROLLING RESPIRABLE SILICA DUST
16 Mar 2020, News, Product Focus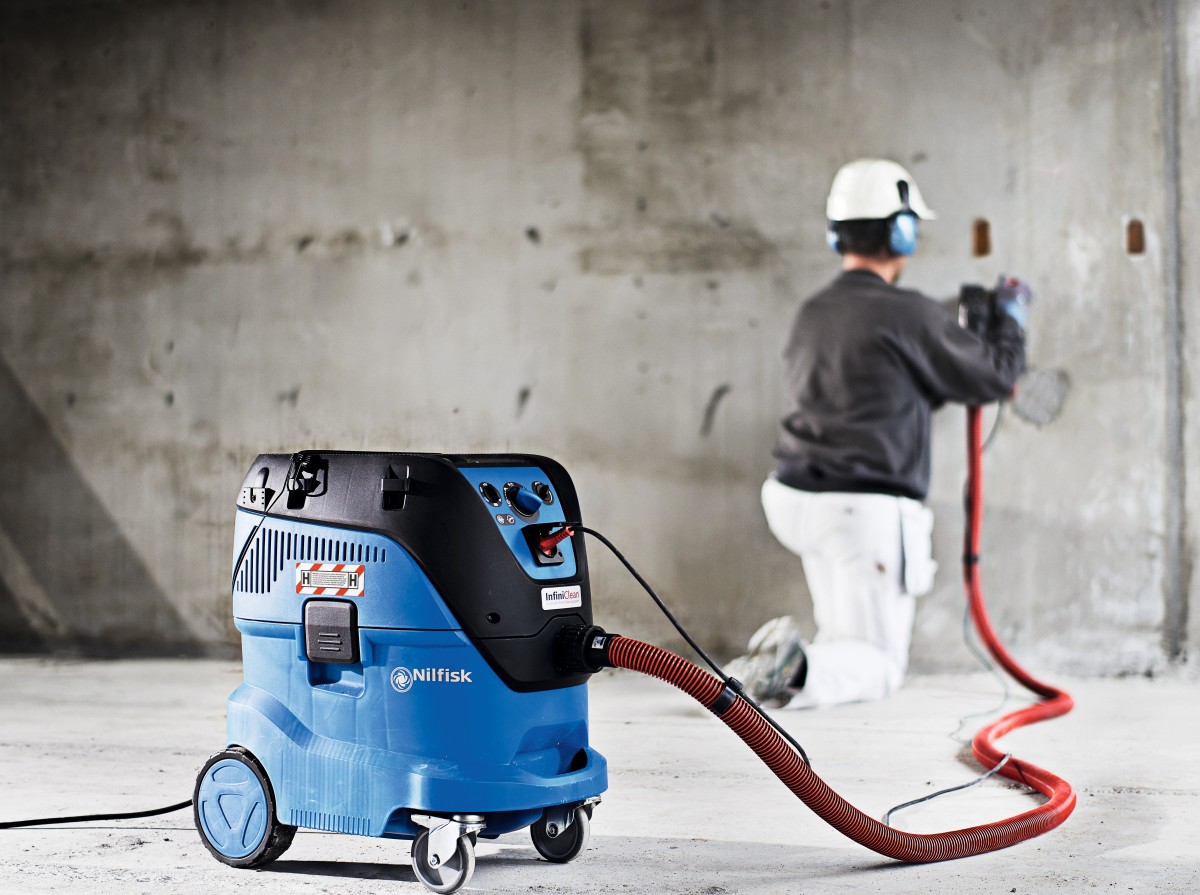 Nilfisk vacuum – the approved answer to a cleaner construction environment
Breathing in crystalline silica dust on site can be hazardous for workers and, as an industry, there is plenty of opportunity to better address how these risks are dealt with.
In November last year, WorkSafe took a step in that direction by updating its guidelines for control and extraction specification when working with respirable crystalline silica (RCS) dust.
Silica is a natural substance found in concrete, bricks, rocks, stone (including artificial or engineered stone found in composite kitchen benchtops), sand and clay. RCS dust is created when these materials containing silica are  cut, ground, drilled, polished or otherwise disturbed. One of the worst potential hazards for workers is silicosis, a progressive and deadly disease that causes fibrosis of the lungs from inhalation.
The WorkSafe Guidelines, Silica dust in the workplace, and Controlling dust with on-tool extraction, provide clear requirements that need to be addressed by PCBUs where RCS dust is created by tools.
When working with a known hazardous dust, tradespeople choosing vacuum cleaners as their control method are expected to select a machine that has been tested and approved at the design/manufacturing stage to perform
to a certified level. Standard vacuums, where the actual level of dust collection, filtration, and leakage cannot be verified, are not appropriate. A common misconception is that installing a 'HEPA filter' into a non-certified  vacuum is an adequate solution – according to WorkSafe, it is not.
When working with RCS dust, WorkSafe guidelines require using an H-class vacuum cleaner in accordance with Standard AS/NZS 60335.2.69 and fitted with a filter that can achieve an efficiency of 99.995%. This is the only performance level accepted by WorkSafe to safely capture the minute particle size of RCS dust.
It is the PCBU's responsibility to eliminate or reduce the level of construction site dust. Operator training, regular maintenance and testing, as well as safe storage and transportation, are all elements that PCBUs need to have in place to ensure the chosen control measures are being used correctly and effectively.
According to Nilfisk, its vacuum is a fully compliant dust extraction solution. The company also supplies additional support in the form of customised power tool integration to ensure safe, clean handling of construction site  dust from the moment the dust is created, through to its final disposal.
/* featured_learn_list end */?> /* featured_news_list end */?>